What is the name and age of your Cockapoo and why did you choose that name?
Teddy is 5. He had already been named by a family who were originally going to have him. They then withdrew having him and when we met Teddy at 6 weeks old he was already named.   Whilst we had already talked about naming a dog Teddy, it would have depended on what we had got.   Obviously, him and us was meant to be.



Does your dog have a silly nickname that you have given them and what's the story behind it?
Generally gorgeous boy, but he also gets Teds or Tedster from other family members.
Can we have one of your favourite images of your Cockapoo please? Let us know why its one of your favourites.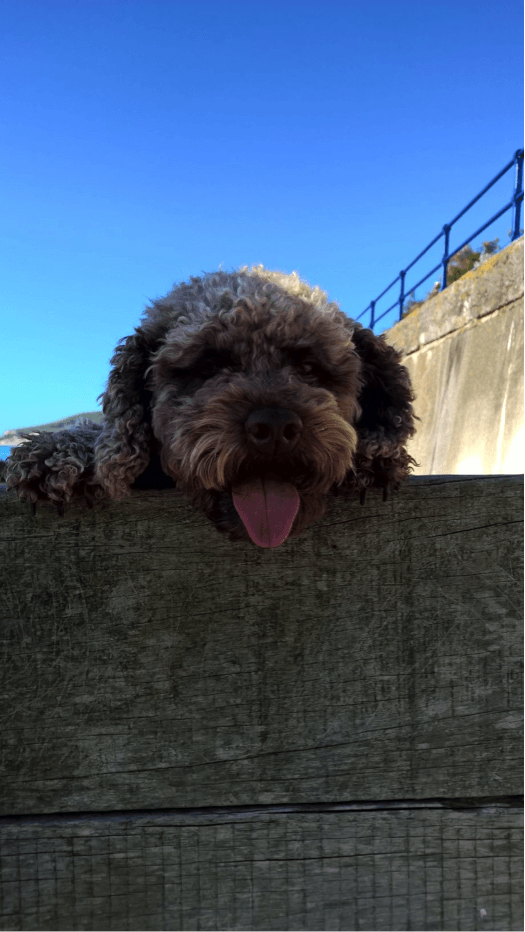 It is really hard to get good photos of him, but this is one of my favourites, thinking about jumping over a groyne on the beach.
Does your Cockapoo sleep in a crate, or do they sleep upstairs with you on the bed? What were your reasons for your choice?
Whilst Teddy has a bed on the floor in our room, he very rarely uses it. If he is upstairs he will sleep on the landing floor then get on our bed in the night. Most of the time though he sleeps on the sofa in the lounge.
What is the first thing your Cockapoo does in the mornings when you wake up? (Any bed head photos welcome!)
Once my partner is up and about, Teddy goes out to the garden for a wee then comes up and gets on the bed with me until I get bought a cup of tea up. He stays there until we are up, dressed and got downstairs.

What food do they eat? Are they on dry food? Wet food? Or a raw diet?
Generally Wagg biscuits. A Pedigree Chum sachet sometimes pimped up with some grated cheese. If we have a roast, he will have the meat with biscuits.
What's their favourite food that they just can't resist?
A cocktail sausage just after the last toilet before bed.
But he is also partial to roast chicken. If he has had a lovely dinner, he then insist on wiping his chops on the carpet!
Has your dog been on holiday, if so, where and did they enjoy it? Do you have dog holidays planned? (include a picture if you can)
Teddy has had a few holidays – Scotland, Devon, Shropshire and more recently Hampshire. We generally stay in a dog friendly holiday cottage/barn.
What's their favourite toy and why?
He has a small orange squeaky toy like a mini space hopper. It is the only thing he brings back for us to throw again.
What's the hardest thing about living with a Cockapoo?
They don't like to miss out on anything!
What's the best thing about living with a Cockapoo?
Always there, you would never get lonely. Always happy to see you even if you have only been away for 2 minutes. 
Tell us a bit about what happens to your Cockapoo during the day? Are they left alone? If so, how long? Do you use doggy dare care or a dog walker? Do you take them to the field, or prefer to take them for walks?
My partner is a barber so generally Teddy is in his shop whilst he is at work (3 ½ days a week). He is very rarely left alone but if we do go out and leave him, he will sit on the stairs or on the back of the settee and look out of the window until we return. Whilst we are out, he will not eat or drink anything. As soon as we come home, we get a big welcome and then he will dash out to the garden have a wee before then having something to eat out of his bowl. And then hang around our ankles making sure we do not go out again.
Two lunchtimes a week he goes out with a dog walker.
Teddy on average gets two good walks a day.
Where is their favourite place to go for a walk?
He loves the seafront, chasing pebbles. He loves the forest to chase sticks, not that he ever returns a pebble or a stick. He also loves the golf course and local nature reserves at dusk for the fantastic smells. He also loves to swim after sticks in the river on a warm day.
What advice would you give to someone looking into getting a cockapoo?
Give them lots of time and you will be rewarded with oodles of affection.
What was the last photo of your dog that you took?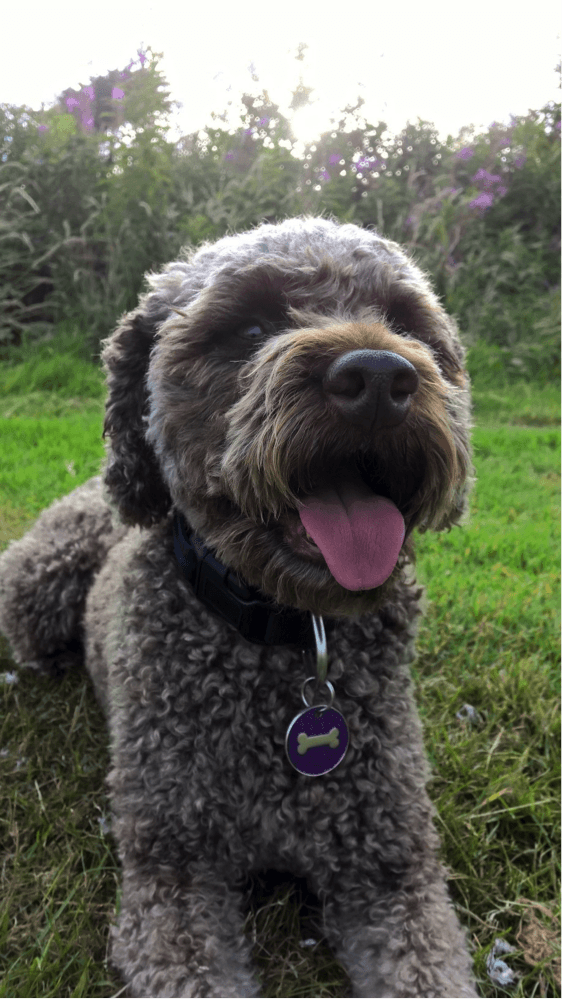 This was the last picture taken a couple of weeks ago with the Seven Sisters in the background.