What is the name and age of your Cockapoo and why did you choose that name?
We have one cockapoo. His name is Buddy after my husband's favourite beer-Buddy's Bourbon Beer. He is also our best buddy so the name is quite apt. Buddy is 19months young. 
Does your dog have a silly nickname that you have given them and what's the story behind it?
He has many nicknames, Buds for short. Buddyeyebrows because of his funky eyebrows. Budster when he is being a lunatic. Barker when he is being noisy.
Can we have one of your favourite images of your Cockapoo please? Let us know why its one of your favourites.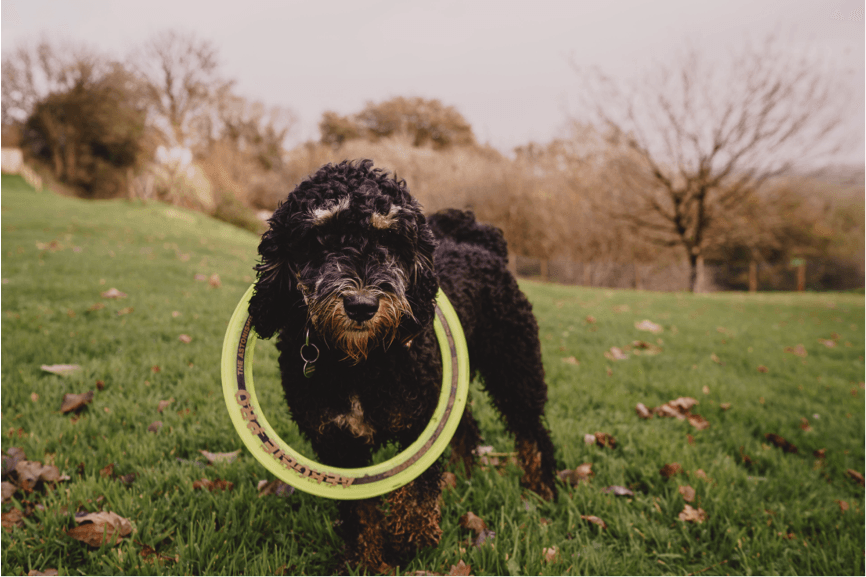 This is one of my favourite photos of Buddy because it was on the day I got married. I could see him outside playing with his frisbee with my husband. It was a cold and crisp day and this captures his absolute cuteness!
Does your Cockapoo sleep in a crate, or do they sleep upstairs with you on the bed? What were your reasons for your choice?
Buddy has his comfy bed upstairs on the landing. He has free flow of the downstairs and access to our spare room where he quite often has the double bed to himself. He is allowed in the main bedroom in the morning for cuddles! We decided to not let him in the bedroom to sleep because he likes to sleep on me and takes up rather a lot of room.
What is the first thing your Cockapoo does in the mornings when you wake up? (Any bed head photos welcome!)
Buddy will always give me a cuddle first thing in the morning. He loves cuddles! He more often than not follows me around whilst I get ready for work. However during the weekend we cuddle all morning and often enjoy a walk on the beach.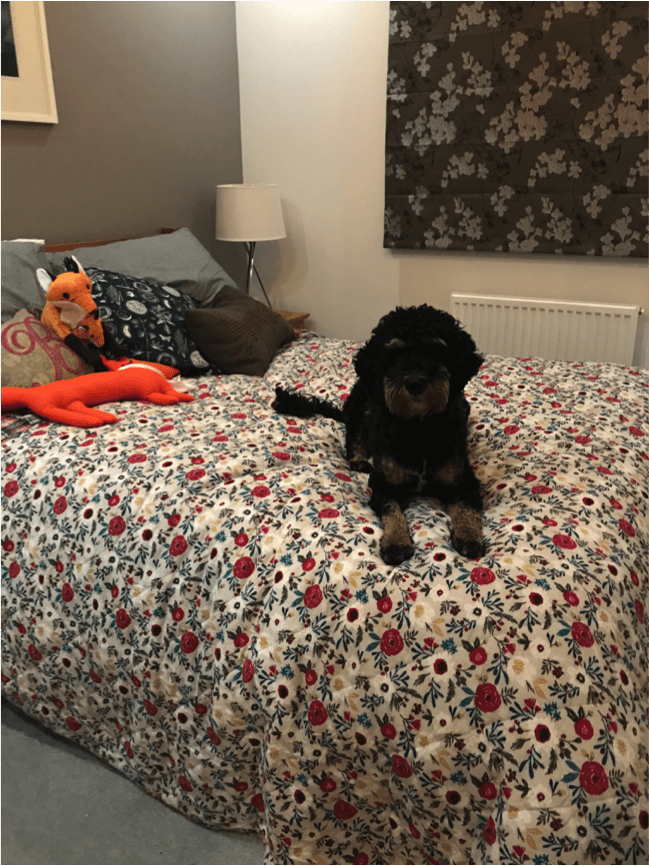 What food do they eat? Are they on dry food? Wet food? Or a raw diet?
Buddy is on a dry food diet but we will add water to make a gravy. Sometimes he will eat white fish with his dry food. He has quite an appetite.
What's their favourite food that they just can't resist?
Cocktail sausages, Buddy will do anything for a cocktail sausage. In fact he tries to show off all his tricks at once!
Has your dog been on holiday, if so, where and did they enjoy it? Do you have dog holidays planned? (include a picture if you can)

I have recently just got married and for our 'minimoon' we decided to go to the Cotswold and take Buddy with us. There were so many beautiful walks, dog friendly pubs and shops. We stayed in a cute little cottage with a nice big garden for Buddy to run around in.  Buddy loved our minimoon.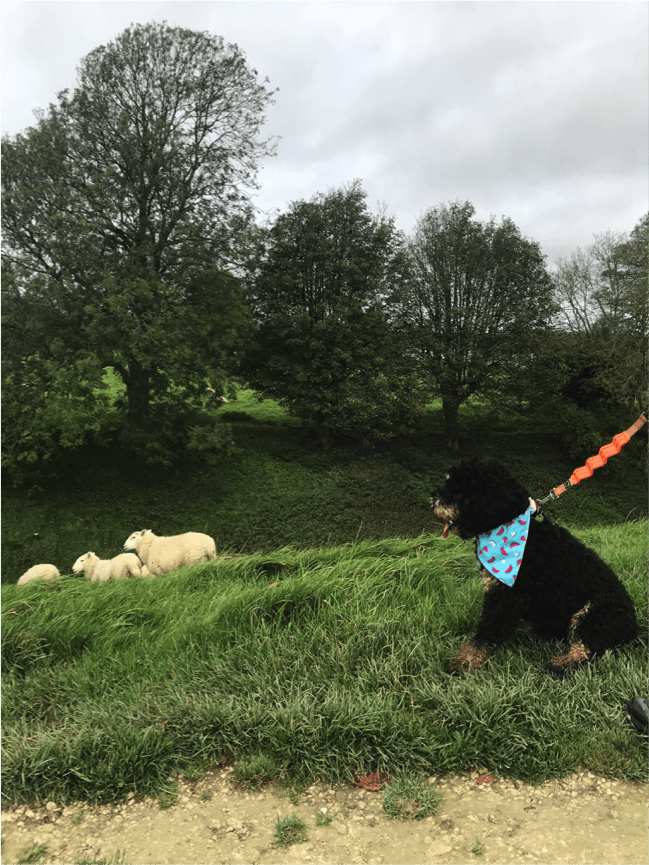 What's their favourite toy and why?
Definitely a frisbee. We take two with us whenever we go for a walk this is because he will not give one up! We throw one and he chases it, we throw the other and he drops the original one. We could go on for hours and hours and hours! His favourite indoor toys are squeeky balls, his OVO eggs and currently a Christmas sprout!
What's the hardest thing about living with a Cockapoo?
Leaving him to go to work! His little face makes me feel guilty everyday.
What's the best thing about living with a Cockapoo?
Buddy is always happy to see me. After a pants day at work I can always rely on Buddy to cheer me up. He's full of character, talent and tricks and I adore him.
Tell us a bit about what happens to your Cockapoo during the day? Are they left alone? If so, how long? Do you use doggy dare care or a dog walker? Do you take them to the field, or prefer to take them for walks?
During the day Buddy goes to the inlaws and goes on lots of walks with their dog (who also likes a frisbee!). He sometimes goes to Doggy Day Care and loves socializing with his friends there. At his daycare they have a huge field, woodland area, sand, obstacle course and when it is chilly they can go inside with the television and lay by the log burner to warm up. Life of luxury!
Where is their favourite place to go for a walk?
Tricky question! He adores the beach because he has a huge stretch to run and chase his frisbees on! However he also likes our local National Trust walk at Trelissick because he can explore the woods and still chase his frisbee. It is also a good place for socializing! He enjoys a walk in the woods at Tehidy because usually there is a lot of poo to roll in!
What advice would you give to someone looking into getting a cockapoo?
Don't think about it, just get one, you will not regret it! Oh and buy an antler, their teeth are like needles when they are a puppy.
What was the last photo of your dog that you took?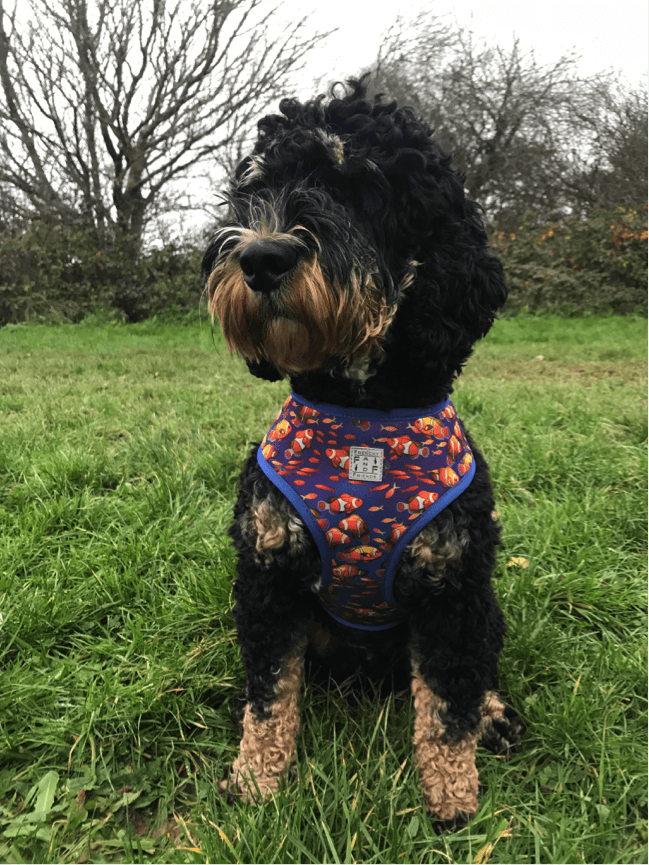 Buddy on a slightly chilly and wet walk!