How many other Cockapoos did you see while you were out on your dog walk this morning? If it's anything like my walk, then you would have at least seen 1 other cockapoo. I saw 3 today!
I read an article recently about how cockapoos are now the most popular hybrid breed of dog in the UK, so I thought I would produce an article to show some of the search trends in Google for cockapoo related data!
UK Cockapoo popularity
UK (2004 to 2017)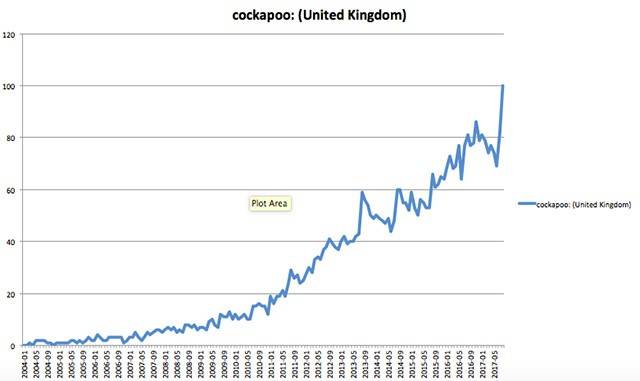 It looked like the above data really started to peak in about 2011. But why might that be? I have done some research but can't find any specific films or events that may have caused this. If anyone has any information please get in touch and I can add it to the article.
Now lets show which areas of the UK are most interested in the cockapoo.

Uk broken down into regions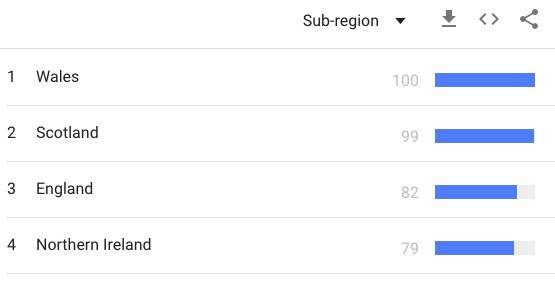 Its interesting to see that Wales is the most popular area, following by Scotland, then England and then Northern Ireland.
Note: A higher value means a higher proportion of all queries, not a higher absolute query count. So a tiny country where 80% of the queries are for "cockapoos" will get twice the score of a very large country where only 40% of the queries are for "cockapoos".
UK Cockapoo data broken down into cities and towns
I am just going to show the top 10 here. I am from Warrington and my town comes up third which is maybe why I see so many Cockapoos! Does where you live come up on here?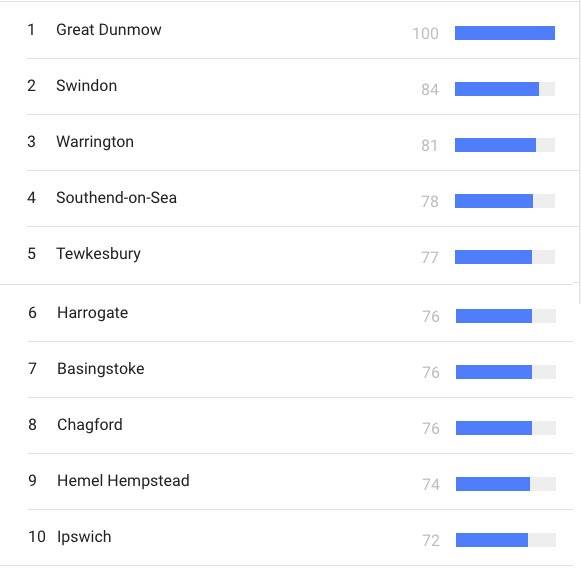 Cockapoo US (2004 to 2017)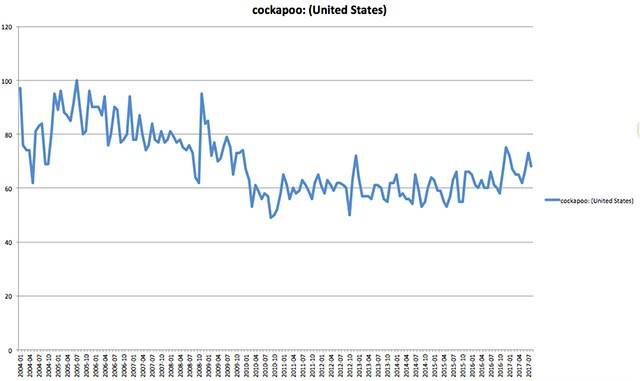 Here is one that shocked me, searches have actually gone down in the US. Why could this be? Could it be that we always catch onto US trends a few years later and that our trend will slowly start to dip? Or could it be that they are just not as interested in the Cockapoo as us?
Cockapoo vs Labradoodle (UK)
Another cross breed that sometimes gets confused for a cockapoo when they are smaller and younger is the labradoodle. These are also very popular at the moment, so lets see how they compare to Cockapoos!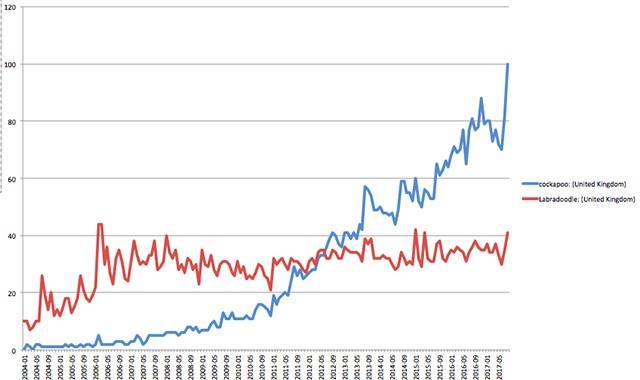 Here we have the cockapoo in blue, and labradoodle in red. This was not what i was expecting to see. I was expecting to see the labradoodle on the rise. Here the data shows that searches have stayed quite consistent since 2011 to 2017 with ups and downs each year.
Cockapoo vs Cavapoo (UK)
Another very popular cross breed at the moment is the Cavapoo, lets see how these compare to the searches against cockapoo.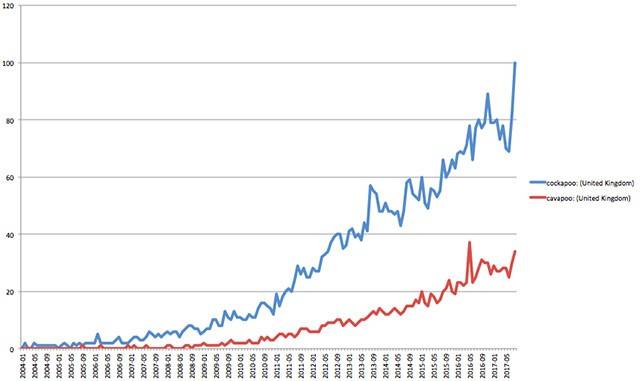 Interesting data here. We can see that the cavapoo is on the rise just like the cockapoo but is still some way off becoming as popular. I expect this to carry on rising just like the cockapoo.
Pugs have certainly become more popular over the years so I thought they should be included in this case study.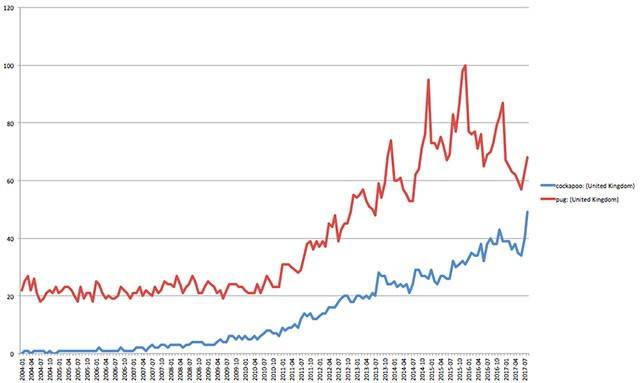 I was totally shocked by this one. Pug is the red line on the graph and blue is the cockapoo. Pugs are currently a lot more popular than cockapoos but they have declined since 2015, maybe due to the rise of the cockapoo?
Cockapoo vs French Bulldog (UK)
So, surely more people are searching for Cockapoo's than French Bulldogs? WRONG.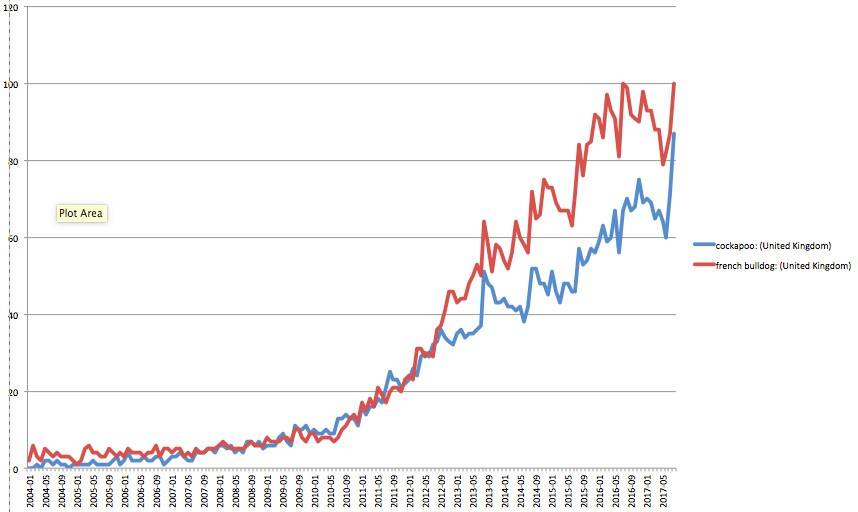 Both have risen at roughly the same speed and time as each other with the French Bulldog being slightly more popular at the moment. Will this trend continue?
Rest of the world cockapoo popularity
I only showed UK and US data before because thats where the majority of readers will be from, but lets take a quick look at where Cockapoos are most popular (searched for) across the rest of the world.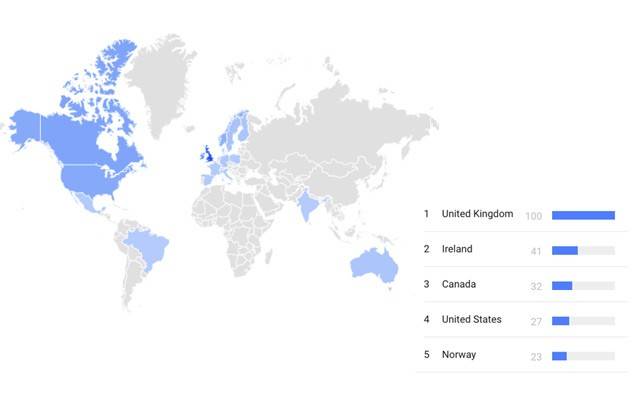 We can see that the top 5 countries for Cockapoos are all first world countries! They really are a spoilt pooch!
Top 5 Popular Cockapoo Products