A Cockapoo's main characteristic is their long luscious coat and teddy bear features but with a fuller coat comes a lot of grooming and maintenance.
Like any new experience for a puppy it is best started early on. Once they have had their vaccinations and ready to go outside you should start to think about finding a groomer. Talking to friends or other doggy parents and see who they recommend is usually the best way.
Many groomers offer puppy introductions to get them used to the process. A brush, bath, nail clipping and trimming the hair in front of their eyes is ideal before full grooms begin. Full haircuts usually begin at 5-6 months of age so there's plenty of opportunities to get them used to the salon and their groomer beforehand.
As well as salon grooming you need to maintain the coat daily at home too.
The best brush to get is a medium/firm slicker brush (although a soft one will be fine until they get used to it) and a comb. Your groomer may be able to recommend a certain make or ask at your local pet shop. A conditioning spray will also help to ease any tangles out.
Try to have your dog on a table with a non-slip mat, this not only saves your back but helps them feel more secure. Get an extra pair of hands if possible to ensure they are safe, especially if they are a wriggler.
Pick a side to start on and begin at the bottom of the hind leg. Lift the coat leaving a section to work on. Start gently with the slicker brush and remember not to brush the same area for too long to prevent soreness. Then you can use the comb to check there's no knots or tangles that the slicker brush missed.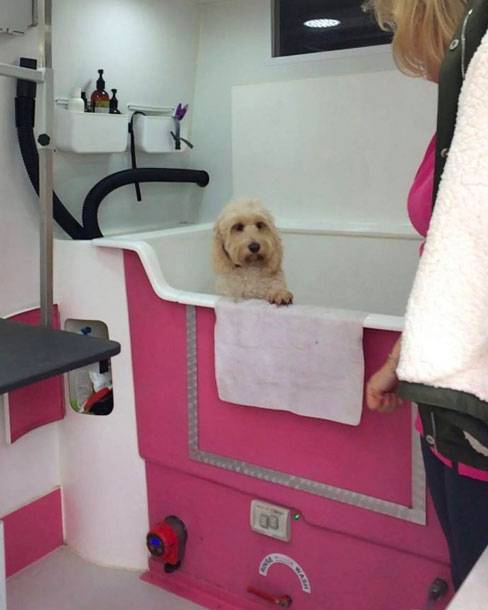 Work your way methodically over the entire coat and pay particular attention to commonly missed areas such as inner thighs, under the front legs and behind the ears.
Other things you can do at home is cleaning their ears and touching and lifting their paws. Some dogs feel uncomfortable with having their feet held so this is a great way to make them feel at ease as groomers must lift paws up to clip nails and trim the hair on the pads.
Take breaks when necessary and you can use treats to make it a relaxing and positive experience.
You may prefer a shorter coat for convenience but longer coats will need to be groomed every 4-6 weeks. Also, you should expect to pay approximately £35-£50 for a professional groom.
My Groomer says my cockapoo is matted, why do they need to clip their coat short and not just brush them?
If your dog is matted it doesn't always mean you haven't brushed them properly, sometimes the length of coat and the dog's lifestyle just don't mix. However, if you are struggling to keep on top of it, don't panic! Take advice from your groomer and work out the best course of action which may be a shorter trim or more frequent grooms. It's important to have good communication with your groomer and them with you.
Groomers don't simply shave dogs with clippers because it's easier, it's actually more time consuming and hard on equipment but most importantly we love showing off our styling skills on longer coats so it's disappointing when there is no other option.
Lengthly brushing of tight matting is against your pet's welfare. Hours of brushing is not only painful but can cause skin sores and can actually break the coat damaging it further.
The best and kindest thing to do is to clip them short and start again. It will grow back and your dog will be much happier for it.
Top tips to prevent tangles:
After a fun muddy walk tries to avoid rubbing the coat with a towel. This will create static and tangles. Instead, just wipe the towel down in the direction of the coat
Try to get knots out before bathing or if they go swimming because if they remain and the coat dries, they get tighter and turns into matting.
Every time you remove their collar and/or harness, brush that area to ensure it hasn't rubbed on the coat and got tangled.
Happy Grooming!
Top 5 Popular Cockapoo Products