Cockapoos are the oldest of all the so-called dog designer breeds and are a cross between the Cocker Spaniel and the Poodle. You might also see them described as a Cockapoodle, Cockerpoo, or cock-a-poo.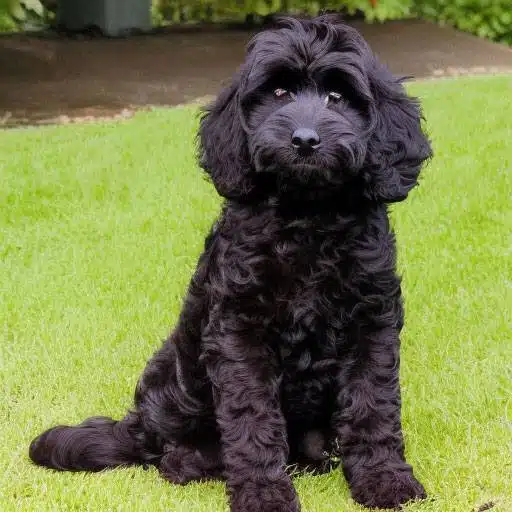 The type of poodle used in breeding significantly impacts the size and weight of the puppies. A toy poodle's puppies can weigh as little as 5 pounds when fully grown, while the standard (maxi) poodle's puppies can weigh as much as 65 pounds. 
Full Grown Cockapoo Black
Contents and Quick Navigation
Cocker spaniels and miniature poodles are the most popular mix for black cockapoos. However, the most popular choice is a Cocker mixed with the miniature poodle, creating solid and medium-sized dogs that weigh approximately 15 -19 pounds and stand about 14 -15 inches tall at the withers.
To a large extent, the appearance of a Cockapoo's coat can only be determined by studying the genetic makeup of the dog's parents.
The coat can be straight, wavy, curly, long, medium, or short. Black Cockapoos typically inherit the low-shedding quality of the poodle coat; however, this is not always the case.
Their coat colouring also varies greatly. Cockapoo puppies can be any colour you'd expect to see in a poodle or cocker spaniels, such as black, white, red, brown, sable, tan, blonde, or a combination of colours and patterns.
Black Cockapoos
One of the most popular Cockapoo colours is black. Black Cockapoos can be solid or have white or other colour markings. Other colour markings can be Phantom, Sable, Roan, and of course,  "black and white."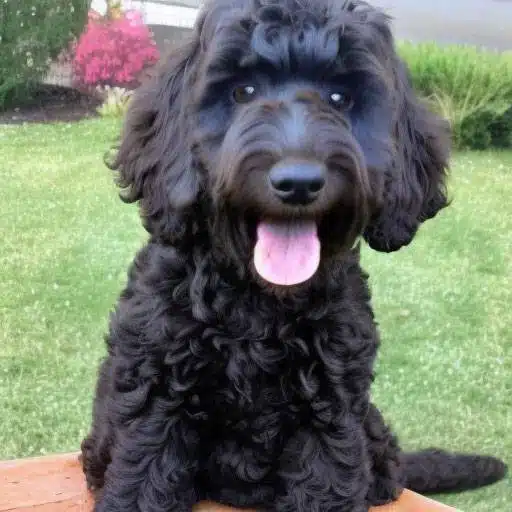 However, even if you love the colour black and want your puppy to stay a lovely jet black for the rest of the dog's life, it might not. Even though some Cockapoos start life as deep chocolate, black or red, their colour can change—the hair colour changes because of the "fading gene" from the Poodle half of the mix.
Will My Black Cockapoo Fade?
As mentioned, Cockapoo fading results from the poodle's fading gene. It's not a foregone conclusion that the dog's colour will fade because it doesn't always happen; however, if it does, the black typically fades to grey or silver.
What Age Do Cockapoos Change Colour?
Typically by the age of two years, if a Cockapoo changes colour, it will already have happened. As well as black fading to silver and grey, if you see a blue Cockapoo, the odds are it began life as a black one.
How Much Does A Black Cockapoo Cost?
The good news is there's not much difference in the price of a black Cockapoo than any other colour. However, the breeder's reputation, comparing hobby breeders to business breeders, will affect the price you pay more than the colour. Overall, you will pay slightly more for a two-tone or tri-colour Cockapoo. 
Typically expect to pay just under £1,000 to £1,500 depending on the breeder and the area of the UK.
Why are black cockapoos cheaper?
Black dogs of all breeds are generally cheaper. It just seems that people prefer other colours of dogs, and there's no objective evidence as to why.
Are Black Cockapoos Rare?
Black Cockapoos are not rare. After the champagne/light blonde colour, it's the second most popular colour. When out on my dog walk, I see plenty of black cockapoos.
Are Black Cockapoos Cute?
Of course, they are! What could be cuter than a black cockapoo who wants to be your best mate and be with you all the time?
Are Black Cockapoos Calmer?
We are not sure where you might have heard this, but there is no evidence to show that black cockapoos are calmer. Whether a cockapoo is calm will have a lot to do with its temperament and its upbringing.
Mike is the proud owner of a 7-year-old Cockapoo named Luna. He loves to share stories, tips and information about owning a Cockapoo. With over7 years of experience as an owner, Mike is passionate about helping others own and care for their dog.
Top 5 Popular Cockapoo Products