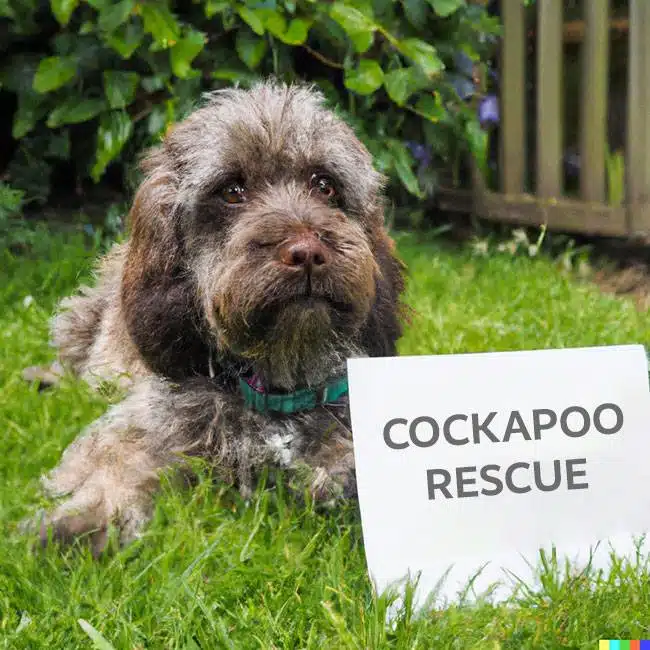 When most of us think about cockapoo rescue, we might think about animals that have been abused or neglected. The thing is, this might not be the case. Many come from reputable breeders who people with good intentions have taken on. Divorce, the death of a loved one, and having to move home – are all the most stressful moments of life. Not just for humans but animals too – they are all legitimate circumstances and reasons a cockapoo will end up at a rescue centre or need rehoming.
One of the main reasons Cockapoos are given up is that they did not realise how much hard work they would be and just how much attention they need. They are adorable dogs and make great family pets, but they are a cross between a cocker spaniel and a poodle; combined, make an energetic dog breed.
Combine these both, and you get a dog that needs a lot of training and company. If an owner does not have the time, patience and relevant experience, it can be difficult to take on a cockapoo. It can also be a problem if they have a cat or another animal and requires a lot more effort to train them to be sociable with all members of the "pack".
Other reasons could be nothing to do with the cockapoo itself or even be the fault of the people involved. Still, as we already said, a change in circumstances meant they could no longer provide a forever home for their cockapoo. A person often has to give up a cockapoo with a heavy heart.
Sadly, some people simply lose interest in caring for a dog, especially if their behaviour is more challenging as they get past one year old and would like an easier life.
Cockapoo Rescue UK Centres
Contents and Quick Navigation
The following places will be able to help you. Whether you are looking to rescue a dog, need advice, or maybe looking to rehome your cockapoo. If you are looking for a "cockapoo rescue near me" or "cockapoo adoption, " hopefully, one on this list will help you.
The Cockapoo Club of GB
These guys are specialists in Cockapoos. Although the page I link to mainly talks about what to do if you need to give up your Cockapoo, please send them an email as they will be able to help you find a rescue cockapoo or point you in the right direction if you would like to offer one a forever home.
Dogs Blog
I have only come across this site recently, and it is a great resource if you are interested in cockapoo rescue. Shelters from all over the UK place their dogs here, and you can search by specific breeds. At the time of writing this, there are 3 Cockapoos on this site looking for new homes, and to date, this site has helped find a forever home for over 56,000 dogs! It is one place I would suggest if you would like to either give a cockapoo up for adoption or would like to adopt one.
1. Cockapoo Owners Club Of GB
A very trusted source for finding a cockapoo that needs a forever home. Check out their Facebook profile daily and look for their cockapoos for rehoming.
2. The Doodle Trust
This is a charity that helps rehome all poodle cross dogs. They look to rehome them with suitable people and educate and help you with the dog's needs. Volunteers entirely run this. All the information you need is available on their website. If there is anything else you would like to know, we would recommend you contact them.
3. Doodles Rescue
A registered poodle cross rescue charity that places dogs signed over to them for foster homes and assessment. This is run entirely by volunteers and has many cockapoos for rehoming. It's nice to read the rescue cockapoo success stories they regularly post.
4. Local Independent Rescue Centres
As well as these main charities there will be many local centres. Look around and check out a few centres; you can always phone ahead and ask if they have a cockapoo for adoption. It's worth checking to ensure they offer a good service with clean kennels and well-looked after dogs before you take a cockapoo from them, as some centres are unscrupulous. Many are closed down, and the dogs were given to the leading dog rescue centre charities.
5. RSPCA, SSPCA or your Local Shelters
Although there isn't a specific RSPCA cockapoo rescue centre in the UK or even in the USA, you can phone many shelters and centres and ask if there is a cockapoo for adoption at that centre. Even if they don't have any on-site at that moment, they may log your interest and contact you when a cockapoo becomes available. A friend of mine has an RSPCA cockapoo that has worked out well. There is usually an adoption fee involved for cockapoo rehoming.
6. Gumtree (please don't use this site).
We are putting this last on our list because we would like to warn you about the experience others have had using this resource for cockapoo rehoming. This is often where people will start their search for cockapoo adoption.
However, I have heard many bad things about dogs on here, and some have come from really bad situations. Although that doesn't necessarily make a rescue cockapoo bad, it can leave some with behavioural problems that a current owner might try to hide. Most dogs, through Doodles Trust etc., will have had some assessment before being put up for adoption, such as "are they good with kids" or "are they resource guarding etc." but with Gumtree, you won't truly know what you are getting. Some dogs advertised as Cockapoos might not even be Cockapoos! I've also seen "cockapoo free to good home" on some sites like Gumtree, which is worrying.
Do you Need To Rehome Your Cockapoo?
There are many reasons why owning a Cockapoo might not have turned out as you expected it to be or has not given you that enriching and rewarding experience you had hoped for. If you need help with cockapoo rehoming, then help is out there. Especially if you got your dog as a puppy. They are adorable, but because they are a cross between a cocker spaniel (or English springer spaniel) and a poodle, they require so much time and effort, and it is sad for the owner and the dog. A big reason I see is that the cockapoo is still a puppy, and even though they are great family pets, it will still nip when it is young. This phase passes, but it's at this phase when I see a lot of people give up.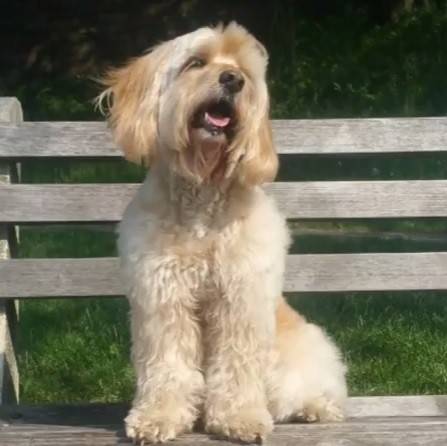 However, we try not to judge anyone's reasons for giving up their cockapoo here at CockapooHQ and find both parties should separate and move on. The owner will be less stressed, and the cockapoo can go to a home where they get the love and attention they need. Most of the dogs I see being given you are still little cockapoo puppies aged six months or at least under a year old.
Please, do not sell your cockapoo on Gumtree or a similar site. A cockapoo can end up in the wrong hands, especially if sold cheaply. We want to ensure they all find their forever home, don't we?
Please contact one of the listings above I discussed where people are after Cockapoos. They are the best people to speak to. They have the relevant experience, can help you deal with this situation all the time, and find the perfect family home for your pooch.
If you would like to chat about this with someone, please contact us here at Cockapoo HQ, and we will help all we can.
Mike is the proud owner of a 7-year-old Cockapoo named Luna. He loves to share stories, tips and information about owning a Cockapoo. With over7 years of experience as an owner, Mike is passionate about helping others own and care for their dog.
Top 5 Popular Cockapoo Products