If you haven't yet thought about insuring your Cockapoo then now is a fantastic time to do so. As with any type of insurance, this is something that is designed to put your mind at ease by covering you in the event of anything going wrong.
Having said that, the fear of high costs puts many Cockapoo owners off the idea before they even get started. So, what do you need to know in order to make a sensible decision on this matter?
Why You Need Cockapoo Insurance
The very first point to consider is around whether you could afford to pay a big vet's bill or some other unexpected expense related to your pet. It can be incredibly expensive to help get a sick dog back to health and you certainly don't want to be left with a heart-breaking decision to make.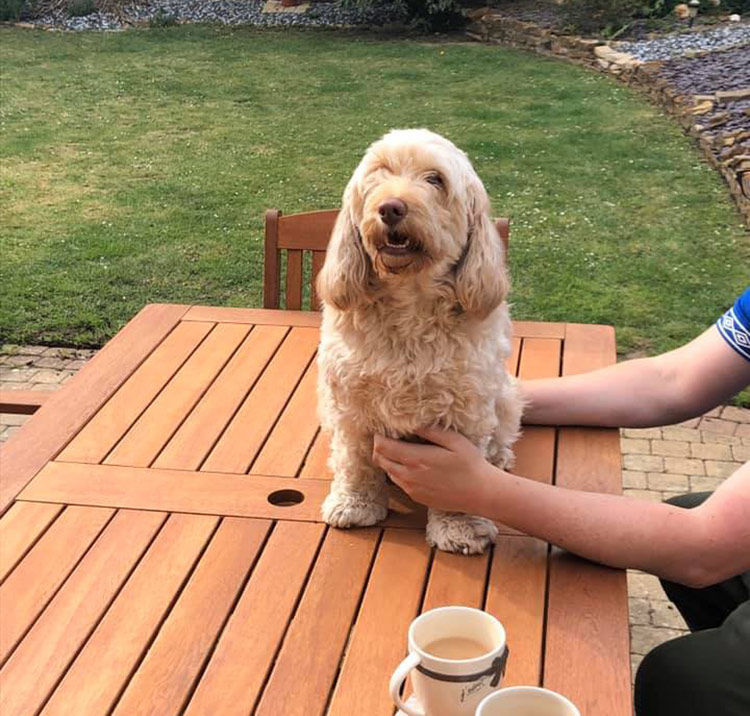 Some owners opt for a form of self-insurance instead, which simply means keeping some money in an account in case anything happens to their pet. Of course, this approach requires a lot of self-discipline. Even this might not be enough if you end up with a massive bill to pay, though.
For most of us, the simplest and most sensible approach is to look for a good value policy that gives up peace of mind. Once you get him insured you can then forget about this matter and get on with enjoying life with your Cockapoo.
Clearly, whether or not to take out pet insurance for your Cockapoo is a highly personal decision that you will have to think about. In order to do this well you will want to see the following information to give you more details.
What Does It Cover?
If you take out a good pet insurance policy you can expect it to cover a broad range of risks. As well as vet's bill for illness or injury, you should also be covered for issues like loss or theft of your dog.
In terms of the vet's bills, it is important to see what exactly is covered with the policy. For instance, does it cover dental treatment, emergency accommodation in a kennel or alternative treatments such as homeopathy and physiotherapy? You also need to take a few minutes to see what illnesses and conditions are excluded from the policy.
Another important type of cover is that which covers liability for any damage or injury that your Cockapoo causes. While he might look like he wouldn't hurt a fly, you certainly don't want to end up with a huge legal bill because he gets into some bother one day.
Some pet insurance policies also cover emergency medical treatment that he might need when abroad. This is an issue that is more important to some owners than to others but it is worth bearing in mind even if he doesn't tend to travel much.
You might discover exclusions for issues such as pre-existing conditions or hereditary illnesses, as well as the risks involved in breeding. Any planned or preventive treatments – such as neutering – won't be covered.
As with any type of insurance policy, checking the list of exclusions is just as important as looking at what is covered.
Different Types of Cover Available
There are a few different options that you might want to check out before you make your final decision.
The simplest and cheapest form of pet insurance is the accident only type, which covers incidents such as your Cockapoo being hit by a car or being injured by a piece of machinery. However, you should be aware before taking out this basic cover that the majority of pet insurance claims are for illnesses rather than accidents.
Apart from this, you could choose to take out a more comprehensive type of cover on an annual basis. This gives you the option of renewing or not each year, which allows you a great deal of flexibility.
On the negative side, this type of cockapoo insurance will typically get more expensive each year as your pup grows up. Indeed, once he is past a certain age you might struggle to get any cover at all for him. You will probably also find that pre-existing conditions are excluded from this policy too.
Finally, the most complete and expensive type of Cockapoo insurance is the lifetime policy. This is a type of cover in which you pay premiums every year of his life. In return, the insurer will carry on insuring him no matter how old he is and what existing conditions he has.
Keeping the Costs Down
It is clear that the cost of dog insurance for cockapoos is one of the issues that make dog owners think twice before taking it out. However, there are some useful tips for potentially lowering the cost.
To get started on finding a good deal it is important to understand the different factors that are taken into account when calculating the cost of pet insurance. These are as follows;
The age of the dog. As we have already seen, a young and healthy dog is cheaper to insure than an older one or one with existing conditions. The simplest way to approach this is to take out a lifetime policy while he is still a pup.
The health risks. Anything that can help to lower the risk of your pooch getting sick and injured could help lower your insurance costs too. For instance, getting your Cockapoo spayed or neutered is likely to see the cost reduced.
The excess. If you have a home or car insurance policy then you are probably already well aware that the excess is the initial amount of any claim that you have to pay before the cover kicks in. By increasing this amount you can lower the cost of the premium.
His safety. Getting him microchipped might save you some money on his insurance policy.
How much the cover is for? When choosing the level of cover for your dog it is important to take into account issues such as his age and breed. In terms of Cockapoos, they are generally considered to be healthy dogs without a particularly high risk of serious disease. However, some can be prone to knee or eye conditions, which can be very expensive to deal with.
Your claims history. As with other types of insurance, making a lot of claims can see your premiums bumped up in future years. This means that you should think carefully before deciding whether to make a claim, especially if it is for a relatively small amount.
How you pay. Paying the premium on a monthly basis can seem like the most convenient approach. Having said that, you could end up paying a lot more if there a surcharge applied for doing this.
Whether you insure other pets. If you have other pets at home then taking out a multi-pet insurance policy for them all could prove to be a good money-saving idea.
How Much You Might Pay
Taking the previous information into account we can see that each policy is going to be different and cost a different price. This makes it extremely difficult to work out an average cost for insuring a Cockapoo.
The best idea is to shop around and compare a few different quotes in order to see which one suits you. Just be sure to compare like for like where possible.
The cheapest you can expect to pay is probably around £15-£20 per month, with the cost going up after that depending upon the factors mentioned earlier. For example, if your cockapoo has serious health problems as he gets older then you could be looking at paying out the best part of £100 each month.
How to Choose an Insurer – 8 of the Best
The good news is that there are plenty of big name insurance companies who offer pet insurance in the UK.
The following are 8 of the best to take into account.
Legal & General
Tesco Bank
Animal Friends
John Lewis
Argos
Purely Pets
American Express
Pet Protect
All in all, getting your pooch insured is likely to be a smart move that gives you a great deal of peace of mind. You certainly don't want to face up to a big vet's bill without having this sort of protection in place.
Top 5 Popular Cockapoo Products