I was recently contacted by Scrumbles to review some of their new softies treats. I don't do a lot of reviews on my site, but I had a quick read up about this brand and decided that I was happy to work with them.
Actually, it wasn't really me who would be reviewing these items, it would be Luna, and Luna doesn't lie 🙂
Here is a video of me giving her the new treats.
As you can see by the video, she really liked both treats. I think she preferred the chicken and duck softies ones over the plant-powered ones, but she did eat both and there's none left in the house any more. She can be quite picky about what she eats as she's a spoiled dog so I was very happy to see her eat these.
Scrumbles Chicken & Duck Softies Treats
Luna loved these dog treats right from the off. They're packed with British chicken and duck, so super tasty, plus pumpkin and chia seeds to support healthy muscle function, skin and coat. Like all Scrumbles products, they are designed to be gut-friendly with the tummy-soothing superfood slippery elm. They're also baked in eco-ovens in the UK, so great to support fellow British businesses.
Scrumbles Plant-Powered Softies Training Treats
Luna was a little more hesitant of these, but then tucked right in. These treats are 100% plant based, so a great option for any pups looking to reduce their carbon pawprint. They're served in plastic-free and compostable bags too, which we loved. They're a soft treat which makes them great for training as I could easily break them up, and Luna could eat them really easily.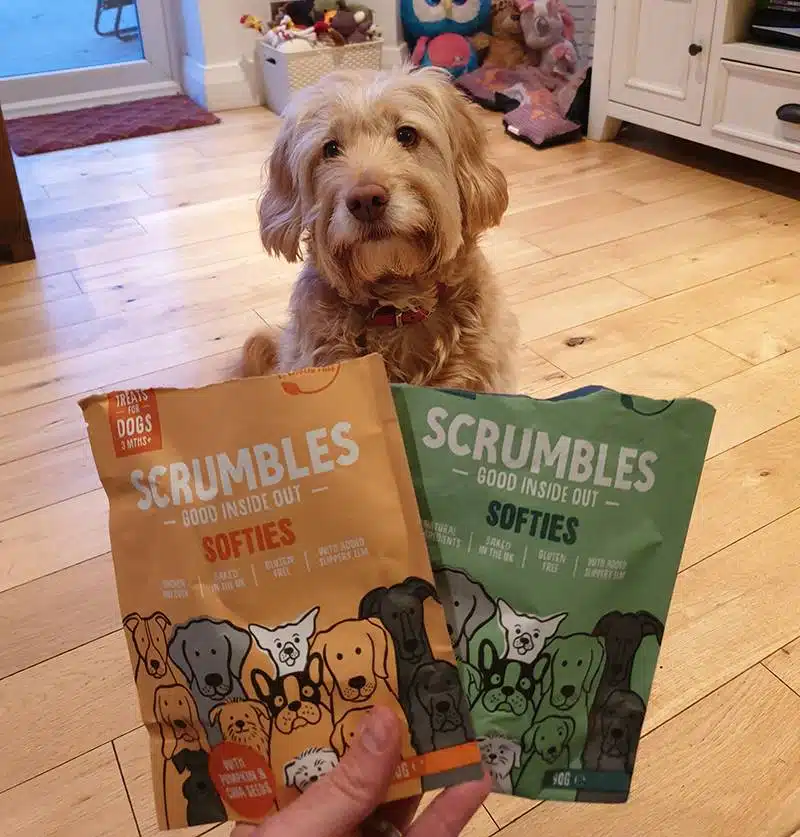 Packaging
Something that Luna can't review is the packaging! These open really easy and all the packaging is 100% compostable and recyclable.
If you want to buy them you can head over to the Scrumbles website and check out their dog training treats or the plant-based ones are available on Amazon here.
Mike is the proud owner of a 7-year-old Cockapoo named Luna. He loves to share stories, tips and information about owning a Cockapoo. With over7 years of experience as an owner, Mike is passionate about helping others own and care for their dog.
Top 5 Popular Cockapoo Products