I was sent the Furbo Camera (for free) to try it out and write a review about it. This is my honest review.
I have a cockapoo called Luna, and to be perfectly honest, we have never really had a problem with her barking, but have always wondered what she might get up to while we are out of the house and she is on her own. Although we doubted it was quite as crazy as The Secret Life of Pets portrayed dogs and pets when their owners are not around, we still thought it might be interesting.
To give you a little context, we have an open-plan kitchen and lounge, and she has free roam of these rooms. We always thought that she probably stayed on the sofa, but again, we were curious if that was the case. So, the Furbo Dog Camera seemed like an ideal choice. It looked like the most supped-up pet nanny cam we've ever heard of.
Unboxing
Contents and Quick Navigation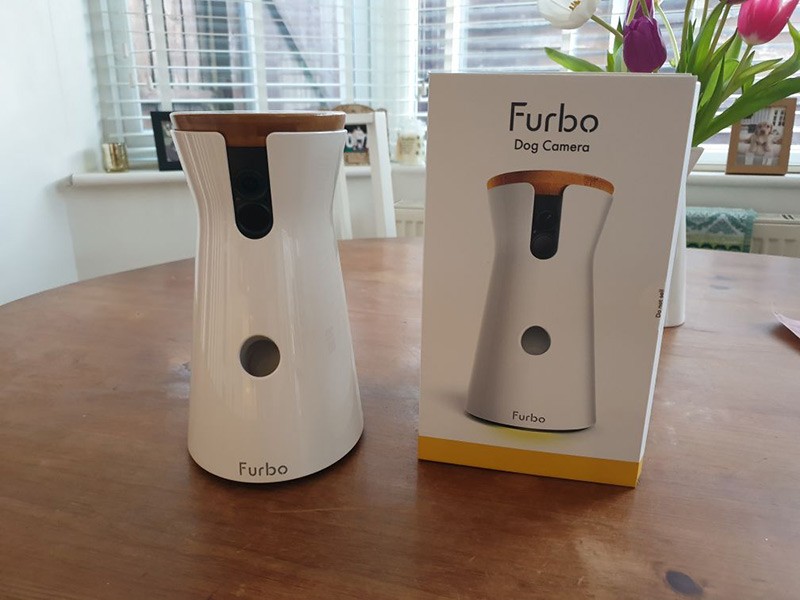 Even before you unbox it, you can tell that the Furbo is going to be a quality product. It almost feels like you are unboxing a new Macbook or Ipad.
About the Furbo
The Furbo is unique in many ways because not only is it a high-quality camera that takes stills and videos, a 160-degree wide angle, 4X digital zoom, and night vision, it also has two-way audio, sends you notifications, and actually tosses treats.
Further to all these handy features and functions that help us stay alert to what Luna may be getting up to, we also appreciate the video and photos that the Furbo can produce, as it's an exciting way to take truly candid pictures that are not staged at all.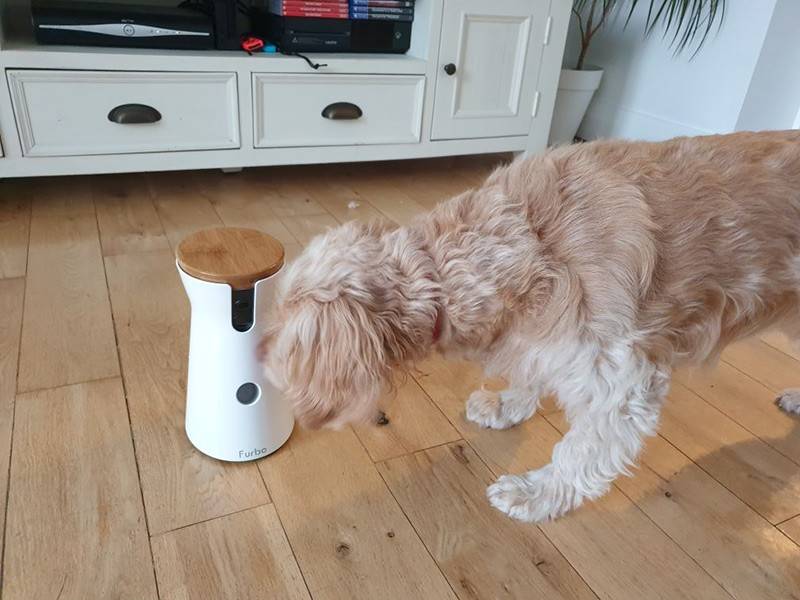 Using the Furbo
As I said earlier, Luna is quite a quiet girl, and we rarely have any trouble with her. She is boisterous once she feels comfortable, but is quite nervy and definitely not a fan of change or new things. So, we were apprehensive about using Furbo. She was too. That was until, of course, it started throwing treats. As you can see from the picture, here she is when she got used to it, and it started giving out those tasty treats; she is now best friends with Furbo.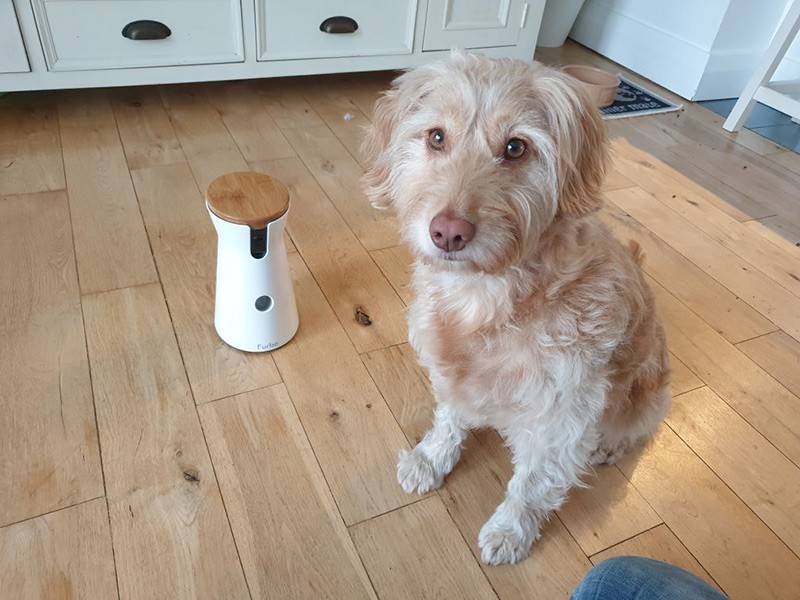 I would also like to add that we are not really in the habit of leaving Luna alone for more than four hours daily. I work from home and so am here most of the time. However, both my girlfriend and I still feel it is a great feature that you get notifications if your dog barks. Under normal circumstances, Luna only tends to bark when there's a doorbell ring or a knock at the door. So, whenever we have received notifications that she has been barking, we have found that there is post at the door, so that explains why we got the notification.
The Furbo 360° Dog Camera Setup
With this setup, you can monitor your pup from anywhere in the world through the free Furbo app. The camera has a 180-degree angle view and uses advanced facial recognition technology to detect when your dog is barking or in distress.
When the Furbo detects barking, it will send real-time alerts to your phone so you can immediately take action. You can also remotely speak and throw treats with the two-way audio and treat launcher features. Additionally, the camera records 1080p HD video accessible at any time through the app.
The setup process for the Furbo 360° Dog Camera is straightforward and quick. All you need to do is plug in the power cable, connect to Wi-Fi, and download the free app on your phone or another device. Once connected, you'll be able to keep an eye on your pup no matter where you are!
Where Is Best to Place The Furbo Camera?
For optimal performance, placing your Furbo camera in the right spot is essential. The best location for the camera should be at least 5 feet off the ground, preferably higher. It should also have an unobstructed view of where your dog sleeps and plays. This will ensure you get a clear view of your pup.
When setting up your Furbo, remember that proper lighting is also essential for its video quality. If possible, try to position the camera near a window or lamp so that it can have access to light during both the day and night.
Finally, avoid placing the Furbo too close to devices that generate sound or interference, like microwaves and wireless routers; doing so may affect its performance and accuracy. By adequately placing your Furbo camera, you'll enjoy uninterrupted monitoring of your pet!
How to Introduce Your Furbo Camera to Your Dog
Introducing your Furbo camera to your pup can initially seem a little daunting, but it doesn't have to be. Follow these easy steps, and you'll be able to build a positive relationship between your camera and your canine companion in no time!
Start by introducing the Furbo camera to your pup in a positive way. Talk about how it will help keep an eye on them when you're away (we know they can't understand you, but being near it with the dog and talking to them might help).
Let your dog explore the Furbo camera from a distance and at their own pace. Don't immediately start motioning for them to come close or touch it, as this may scare them off.
Once they are comfortable being around the camera, let them take a look through the lens and give them their first treats through the treat launcher! This will introduce them to the idea that good things happen when they go near the camera.
As time goes on, continue offering treats while they explore the Furbo until they become completely comfortable with it being around. With patience and perseverance, soon enough, your pup will think of the Furbo as part of their family!
Final Thoughts
I like the Furbo, and although it has taught me that there is nothing to worry about with Luna, I can see why owners of less predictable dogs could seriously benefit from it. I could tell it was a high-quality product from the moment I took it out of the box, and it is incredibly easy to set up and use. You can customise it to fit in with your own requirements and even use your dog treats that your canine buddy is familiar with, as long as they are small enough.
Mike is the proud owner of a 7-year-old Cockapoo named Luna. He loves to share stories, tips and information about owning a Cockapoo. With over7 years of experience as an owner, Mike is passionate about helping others own and care for their dog.
Top 5 Popular Cockapoo Products