I was sent the Furbo Camera (for free) to try it out and write a review about it. This is my honest review.
I have a cockapoo called Luna, and to be perfectly honest, we have never really had a problem with her barking, but have always wondered what she might get up to while we are out of the house and she is on her own. Although we doubted it was quite as crazy as The Secret Life of Pets portrayed dogs and pets when their owners are not around, we still thought it might be interesting.
To give you a little context, we have an open plan kitchen and lounge and she has free roam of these rooms. We always thought that she probably just stays on the sofa, but again, were curious if that was actually the case. So, the Furbo Dog Camera seemed like an ideal choice. It just looked like and sounded like the most supped-up pet nanny cam we've ever heard of.
Unboxing
Contents and Quick Navigation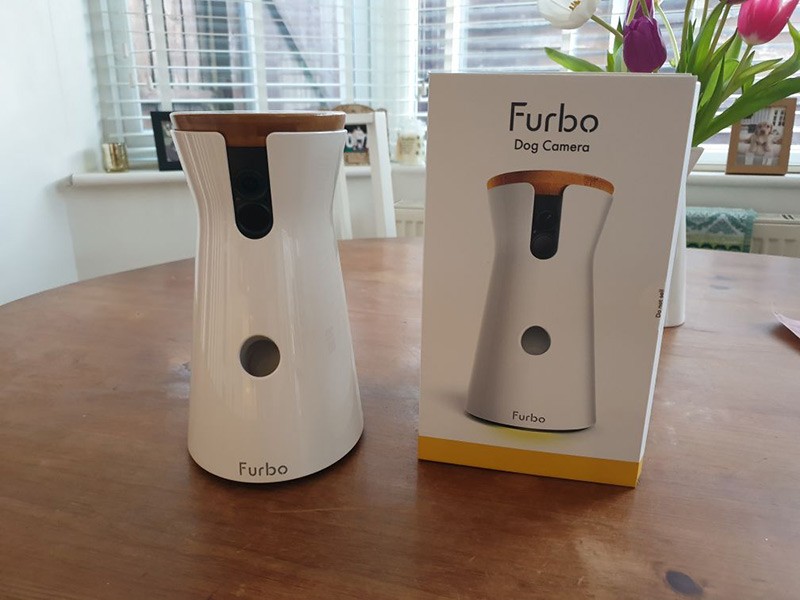 Even before your unbox it, you can tell that the Furbo is going to be a quality product. It almost feels like you are unboxing a new Macbook or Ipad.
About the Furbo
The Furbo is unique in many ways because not only is it a high-quality camera that takes stills and videos, a 160-degree wide angle, 4X digital zoom and night vision, it also has two-way audio, sends you notifications and actually tosses treats.
Further to all these handy features and functions that help us stay alert to what Luna may be getting up to, we also appreciate the video and photos that the Furbo can produce, as it's a really interesting way to take truly candid pictures that are not staged at all.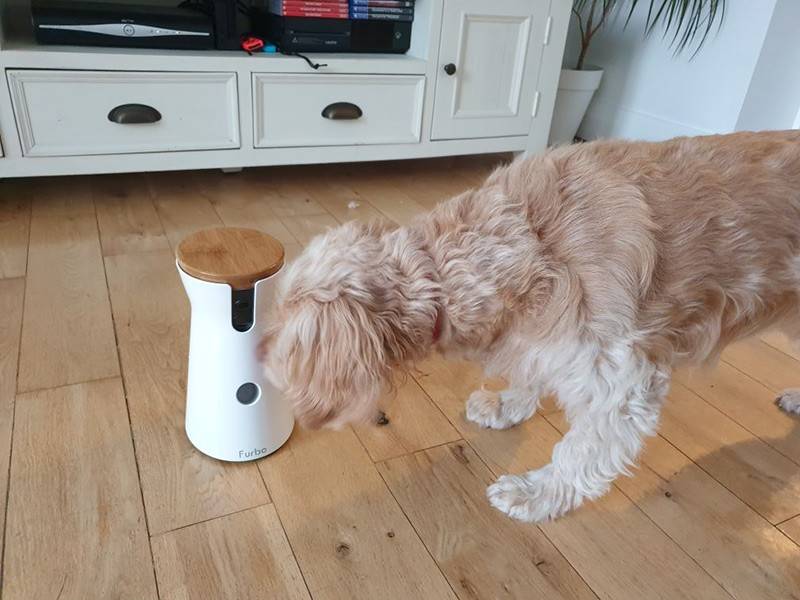 Using the Furbo
As I said earlier, Luna is quite a quiet girl and we rarely have any trouble with her. She is boisterous once she feels comfortable, but is quite nervy and definitely not a fan of change or new things. So, we were apprehensive about using the Furbo. She was too. That was until, of course, it started throwing treats. As you can see from the picture, here she is when she got used to it and it started giving out those tasty treats, she is now best friends with Furbo.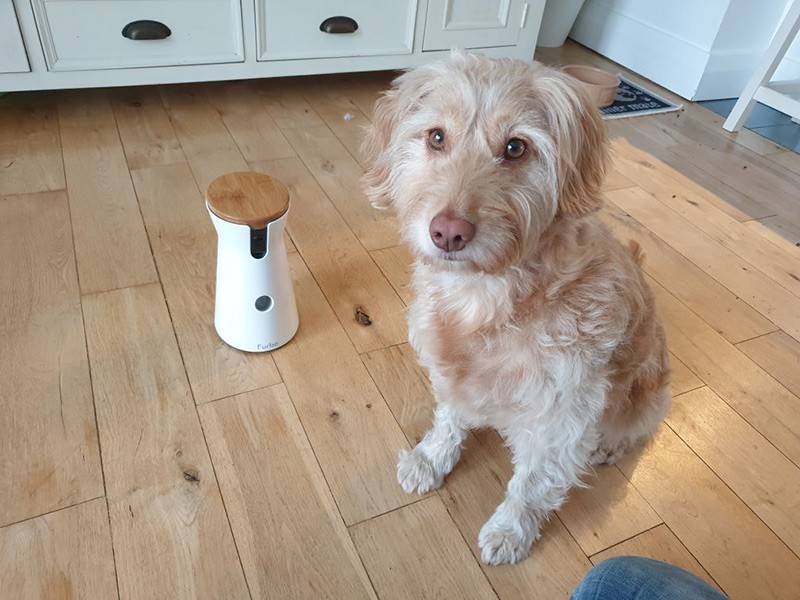 I would also like to add that we are not really in the habit of leaving Luna on her own for more than four hours a day. I work from home and so am here most of the time. However, both my girlfriend and I still feel it is a great feature that you get notifications if your dog barks. Under normal circumstances, Luna only tends to bark when there's a ring of the doorbell or a knock at the door. So, whenever we have received notifications that she has been barking, we have found that there is post at the door, so that explains why we got the notification.
Final Thoughts
I really like the Furbo and although it has really taught me that there is nothing to worry about with Luna, I can see why owners of less predictable dogs could seriously benefit from it. I could tell it was a high-quality product from the moment I took it out of the box and it is incredibly easy to set up and use. You can customise it to fit in with your own requirements and you can even use your own dog treats that your canine buddy is familiar with, as long as they are small enough.
Top 5 Popular Cockapoo Products