One of the most vital decisions you will make concerning your cockapoo's health and well-being is what you will feed your dog. As is the same with us humans, a dog's diet can help make your dog's health, or it can break it.
How do you decide on the best food for a cockapoo? There are so many dog foods, such as dry dog food, wet, organic food, and natural dog food, and advertisers push different types of dog food, knowing that you love your dog and will be a good source of revenue for their business if you choose their brand.
It all boils down to you being educated about the best cockapoo food for your dog, which this article will assist you with. Let's look at some of the best cockapoo dog foods available for these active dogs.
Best Cockapoo Dog Foods
Contents and Quick Navigation
Butternut Box (Recommended Dog Food for Cockapoo)
This is now what we feed Luna. It has been tried and tested by Luna, and we have never known her to wait for the food to be put into her bowl and eat it so fast. I have not affiliated with Butternut Box in any way, but it does come recommended a lot on the Facebook groups, and my wife went and bought it without consulting me.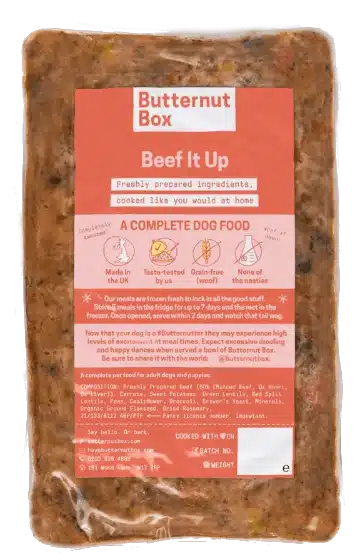 She paid £60 a month for it as she knew I would go mad about the price, so she put it on her credit card. However, I believe it's a great choice after seeing how much Luna enjoys it. She now rarely has any loose poo, and her sheer joy of eating it makes me know that she loves it. If Luna could leave a review of this, she would say it's one of the best dog foods available.
These are frozen, and then you take out the one you want your dog to eat the day before and let it defrost in the freezer. You can even warm it up!
Grain Free – Forthglade 100% Natural Complete Wet Dog Foot, Pack of 12
Sale
If you are looking for grain-free best dog food, consider Forthglade's 100% natural pack of 12. This has an incredibly high 75% meat content, which is excellent if you have a dog that is 1 year or older as it is a great source of the protein they need and should be considered in your best dog food list to look at.
And on the meat, we can't fail to mention the tasty flavours. As it is a money-saving 12-pack, you get 4 sachets of each flavour, including Duck (which also features vegetables and potato), Lamb (with vegetables and butternut squash) and Turkey (with vegetables and sweet potato).
It is also worth noting that Forthglade, established in 1971, has been a leader in the industry in producing high-quality natural ingredients food for dogs. All of their recipes are ideal for dogs who suffer from common allergies, great for animals with sensitive stomachs and for those who need a grain free diet.
Lily's Kitchen Grain-Free Wet Dog Food, 12 Pack
Sale
Please note this is what I used to feed Luna. I still think it's excellent cockapoo food; it's just my wife went and bought Butternut Box.
As a conscientious cockapoo owner, I've always made a conscious effort to find the best dog food I could for my dog Luna. I feed her the grain-free food made by Lily's Kitchen, which is available in a 12-pack featuring 400g tins. These are perfect for any dog that has trouble digesting other heavier meals, and they only feature meat, veg, and herbs that are all fresh and highly nutritious.
The flavours of this cockapoo dog food almost sound too good to be true. Wild Campfire Stew has ingredients like Venison, Pheasant, and Salmon with potatoes and a host of other tasty things. Whereas Fishy Fish Pie sounds like something, you'd feed the family, rather than the dog with chunky bits of turkey, herring, salmon, and a selection of veg. Other selections include Sunday Lunch and Cottage Pie. As should be with any good cockapoo food for your dog, there is no rendered meat, bone meal, or meat meal, all real meat.
Dry Dog Food For Luna – Lily's Kitchen Adult Venison and Duck Complete Dry Food, 7kg
Sale
We still use the dry version to supplement the wet butternut box food.
I also buy Lily's Kitchen dry dog food for Luna, so I choose their wet variety for similar reasons. It is highly nutritious and grain-free, so unlikely to cause an upset stomach. The flavour I give Luna is Venison and Duck. Along with those two types of meat, it also includes Salmon and a selection of healthy fruit and veg, along with the addition of Chondroitin and Glucosamine to help strengthen her joints and bones.
As if that wasn't enough, this cockapoo food contains a selection of prebiotics that help her to aid with healthy digestion and essential nutrients for a healthy immune system. She loves the taste, as well, which is helpful. It is admittedly more expensive than many supermarkets and lesser-known brands, but when you are after quality dry dog food for your dog, with freshly prepared ingredients, you can't go wrong with something like this. We have had no issues with this food; she's a healthy dog with healthy skin and rarely gets an upset tummy.
Recommended for a Raw Diet – Cotswold Raw Active 80/20 Mince, Poultry Mix, 8 Pack
If you consider feeding your dog an exclusively raw diet, this dog food formula is one you should consider. Cotswold Raw has a sterling reputation as a company that only uses fresh British-bred meat. This particular variety is the Poultry Mix which contains four packs of Turkey Mince and four packs of Chicken Mince, both 1 Kg packets.
Each high-quality pack features the meat of your choice, fresh seasonal vegetables, and bone, and the brand's philosophy follows the belief that an ancestral dog's diet is best. They feel a dog's digestive system is better served with raw food. One of the key benefits of this dog food is that because it contains raw meaty bones, your dog should suffer less from runny stools. If that is a problem, it may be worth switching to this dog food. Bones, as well as featuring many nutrients that a dog needs, are also great natural toothbrushes.
Bella & Duke Dog Trial Box, 4Kg
No products found.
Another quality dog food brand you may have heard of is Bella & Duke. You might want to learn more if you haven't heard of them. As well as being completely natural, their food is made using human-grade ingredients and contains lots of meat (an essential source of animal protein) and freshly prepared vegetables. This pack is for a trial run, so you can try it with your dog and see whether they like it.
Like the others we've discussed, there is a wide range of fascinating and tasty recipes to choose from, and with this pack, you get to try them on your dog. Turkey meal, chicken meal, Duck meal, Beef meal, and White Fish meal sound like they would tickle your dog's taste buds? Then this is worth investing in. As it's a trial, you at least have the opportunity to avoid paying full price if your dog doesn't take to it.
Scrumbles Complete Wet Dog Food, Grain-Free Recipe, 10 Pack
Scrumbles is another excellent grain-free dog food that has received many great reviews. This is for a 10-pack and features a recipe consisting of turkey and many other great natural ingredients designed to aid digestion, like slippery elm and protein. This is another that's good for your dog if it has problems with stomach issues.
It's not made by a big corporate machine but by a UK-based independent company. The recipe has also been classified as hypoallergenic and contains nothing artificial or any preservatives and no added salt, sugar or anything else. So perfect for any who suffers from food allergies or has food sensitivities. We think the company's tagline is rather humorous "Declaring War on Bad Poos with Gut-Friendly Pet Food".
Wet or Dry Kibble?
Dry Kibble
Dry kibble is great for easy transport and storage and can be used to feed your dog every day. Despite its spectacular invention, you must be careful what is in your dry dog food. It must have as much meat as possible. To know how much meat is in the food you give your cockapoo, you will have to read the label.
If it says beef, bison or turkey, it contains 70% of that meat. If it's something vaguer like 'beef dinner' or beef platter', it only contains 10% of that meat. If it says 'with meat,' it only contains 3%.
Check for grains such as corn and vegetables. A small amount of fruit and vegetables might be okay, but some dogs are allergic to these foods—the less filler there is, the better.
If the label says 'complete and balanced ', it has met AAFCD (Association of American Feed Control Officials) guidelines and contains all the nutrients in the correct amounts your dog needs. Always look for this label. If you see the complete and balanced label, it is a promise you can trust.
Some foods are labelled 'for small dogs' or 'for large dogs'. In this case, you should buy small dog-specific food, as your cockapoo is a small breed, and larger dogs have different dietary requirements.
Wet Kibble
The guidelines are similar for wet food. Pay attention to the label, the ingredients, and whether it says 'complete and balanced' or not. Wet food tastes better, so picky eaters are likelier to eat it. It contains fresher ingredients, which might be why wet is a bit more expensive. Also, you will need to refrigerate this type of food, making it more difficult to store.
Best Food for Cockapoo by The Dog's Age
Best Food For Cockapoo Puppy
When you pick your Cockapoo puppy from a breeder, it will be used for a particular cockapoo puppy food that the breeder will have given. Follow what the breeder recommends regarding times of feeding, amounts etc. If you disagree with the brand of cockapoo puppies food, avoid instantly giving your cockapoo a different brand. Instead, slowly and gradually transition from the old food to the new cockapoo puppy food. Changing too quickly can upset the dog's stomach and lead to diarrhoea and vomiting.
Free feeding is terrible at this age, as you are trying to house-train your cockapoo. At four months, feeding your cockapoo four times a day should be okay. Feeding at strict intervals will help manage when your cockapoo puppy needs the toilet, according to an article from thepets.net.
Food branded "puppy food" is not recommended by breeders. It is often too high in protein, so it might overly speed up development and hurt its musculoskeletal system.
Best Food for Four-Month-Old Cockapoos
A four-month-old puppy should be fed two times a day on the same food you have always given. This would be an excellent time to introduce bones. Raw bones are better for your cockapoo than cooked bones, as cooked bones are softer and might break and damage your mouth. Some breeders recommend artificial bones, as they are not as dangerous and will satisfy your dog's desire to chew. Bones are helpful when the puppy is teething.
Best Dog Food For Cockapoos (Adults)
An adult (about 12 months) should be fed 1 or 2 times on the same dog food it was given since it was a puppy. Indications as to whether or not the dog is getting the right food include: Is the hair shiny? Is it healthy and happy? Does it have diarrhoea or vomit often? Is it energetic and playful? If your cockapoo shows nutritional deficiency signs, please consult your vet.
For adult dogs, we recommend any choices we gave at the start of the article.
Snacks and treats
Cockapoos love treats and will put effort into getting them. You need to put effort into not giving in to your dog's begging. Your cockapoo should be disciplined around dog food, so its digestion is good.
If you need to use treats, use them for training your dog instead of just giving them as snacks. Commercially made treats are not suitable for your dog's optimal health. They are often packed with carbohydrates, affecting blood sugar levels and causing obesity.
In summary, it is best to buy natural cockapoo food. Although your cockapoo can eat other food groups, it is best to be kept on a diet consisting of meat. Whether you buy wet dog foods or dry dog food, always get the brand with the most meat, and look for the complete and balanced label. Do not give your cockapoo too many treats; let them have plenty of fresh air and exercise, and it will be healthy and happy.
All About Dog Food
All About Dog Food is an excellent one-stop-shop resource website that gives you all the information you need to find the best dog food and treats. You can find everything from the type of dog foods you should consider to the amount and frequency you should be feeding them.
The site operates as fully independent; all the information it shares and the tools you can use are free. As well as the comprehensive dog foods comparison page, it also features the first-ever interactive directories for dog food and treats in the world. If that wasn't enough, there are also feeding guides, FAQs, and an excellent dog food-focused forum.
At Cockapoo HQ, we would instead recommend this fantastic resource, which allows you to make a completely informed decision about which food cockapoo dog food is the best for your dog and budget.
Their suggestions are based on your budget and your dog's age and breed. So, it is entirely tailor-made.
It's important to note that you can't select cockapoo as a breed right now. However, you could select a cocker spaniel or poodle to help you find the right dog food and other tips and suggestions about feeding your four-legged chum. That should help you find the best dog food for cockapoos.
Has your Dog Gone off Its Food?
There's always a chance that even if you feed your dog the best food, they still might get bored of it or have a bad stomach now and again. If they do, you could switch to chicken and brown rice, which we do for Luna sometimes. You could also try adding salmon oil or something similar as a topper on your dog's food to encourage them to eat it. Sweet potatoes are something that she loves as well.
Final Thoughts on Dog Food For Cockapoos
Overall it's up to you and your dog to decide which is the best dog food for cockapoos. What works for one might not work for someone else as they can be fussy eaters. Make sure you feed your older dog adult dog food and your puppy some puppy food. When your dog enters their elder years, look at food for senior dogs.
Mike is the proud owner of a 7-year-old Cockapoo named Luna. He loves to share stories, tips and information about owning a Cockapoo. With over7 years of experience as an owner, Mike is passionate about helping others own and care for their dog.
Top 5 Popular Cockapoo Products