I am writing this on September 1st. It feels like autumn, meaning it will be time to get the dog jacket out as the weather is starting to change.
I think Autumn is the best time to walk Luna. It's a bit cooler for her, meaning we can take slightly longer walks, and I don't have to worry about her getting too hot. If we run out of water, there will always be a puddle she can drink out of.
Anyway, let's talk about dog jackets and coats.
Some dog owners never put theirs in a jacket. That's fine. It's a personal preference, and dogs evolved for millions of years without humans putting jackets on them.
Times have changed, though, and we pamper our dogs and like to spend money on them. I'm of the old school thought that a coat should be for a practical reason and not for "dressing up" your dog – but we are all different.
Let's look at some of the best dog jackets that suit Cockapoos.
Contents and Quick Navigation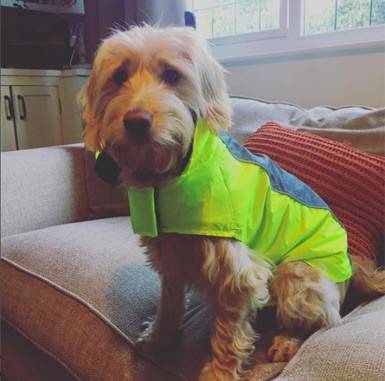 First up, I am going to mention the one that I use with Luna. It's a great little coat; we've had many comments on it when she's been wearing it. It was from Pets at Home.
There are 2 sections to it, with the inside layer being fleece and the outside layer being florescent, which is suitable for nighttime walking or helpful if we are up a mountain or in the forest. Sometimes I have luna wear the base layer at the start of the hike, then as we move, I will take the base layer off and leave the waterproof section on.
She has worn it twice while hiking Mount Snowdon (you can read that article here), and we wear it only if the weather looks bad.
Does it keep her completely dry? Of course not, as there's not much protection underneath. This doesn't bother me, though. She's a dog. If it's raining, she will end up wet. What does this jacket do? It just helps keep her a bit warmer and makes it easier for me to clean her when we get in. Usually, a quick wipe of the underside of her with a towel will be enough.
The next set of coats are not ones I have personally used, but they are ones I think would suit a Cockapoo.
I recently saw a post on Facebook about a Cockapoo who had spent a week in the Lake District. The coat he had on was very similar to this one, and there were a lot of comments asking where the coat was from. I have to say, he did look great in the coat, and its one that provides almost full-body protection. I am unsure how Luna would feel about it, as it might be a bit restricting, but she is a bit of a nervous dog. However, the Lake District dog was climbing mountains in his, and he seemed to love it.
I have to admit; it's a cool-looking coat for a dog. I prefer a dog to be a dog and not look like a human, but if I saw a dog wearing this coat in the rain, I'd be commenting on how good he looks.
This coat comes in yellow, red, blue and black.
I think I'd have to pick the red coat, but they all look pretty good.
This is not a cheap jacket and is about £100 at the time of writing. It is a lot, but I wanted to include Ruffwear here as they are a premium brand. I haven't used their products yet, but whenever I see them in shops, they do look and feel like really high-quality products. This coat isn't going to keep your dog dry, but it's a great little jacket for those chilly days. I think the small or medium size would suit most Cockapoo.
So there you have it. I tried to pick out a wide variety of products for you, and hopefully, there's one in this list that suits your budget or needs.
I love Barbour. A great traditional British brand that always looks classy and sophisticated. If your Cockapoo could talk, would this be the coat they want to wear? Wearing this jacket will surely make other Cockapoo (and their owners) green with envy.
If you can't quite stretch to a real Barbour's budget, then a similar style coat is available here.
I see a lot of positive comments on Facebook groups about how great these are. If your dog loves jumping in muddy puddles, this could be a jacket for you.  I think this depends on what kind of fur your dog has (whether it's more poodle or spaniel) but if you want a dog that won't come home dirty, then maybe give it a try.
There are 2 different types that they offer. One is the full-body suit, and another leaves more of the back legs free.
If there is a coat that you use that you would recommend, please leave a reply in the comments.
Mike is the proud owner of a 7-year-old Cockapoo named Luna. He loves to share stories, tips and information about owning a Cockapoo. With over7 years of experience as an owner, Mike is passionate about helping others own and care for their dog.
Top 5 Popular Cockapoo Products