At the time of writing this, its mid-September and the nights are really starting to get darker sooner. I remember a few weeks ago it was still light at 9 pm but just lately it's getting dark by 730.
I always like to try and do my evening walks when my wife's making the tea, or straight after dinner. That way, it's done for the night and we can relax and the dog can have a snooze. It will be soon by dark by 5 pm and I'll be digging out some of the night gear that we use with Luna. Its all simple, basic stuff, but let me talk you through what we do.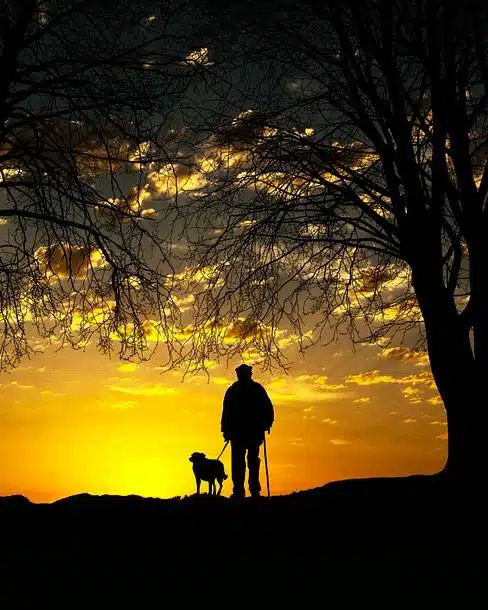 My Top Tips
Contents and Quick Navigation
Dog Coat With Reflectors
This isn't something I use unless the weather is truly awful. If you have a smart dog coat that's suitable for the day time then it could be worth investing in a cheap raincoat for your cockapoo just to give them some extra visibility.
This one here is very similar to the one I have for Luna.
This other one comes with great reviews as well and would look great on a Cockapoo.
Dog Collar with Reflector
A lot of dog collars have these built-in now.
LED lights
There's a whole range of LED lights that you can get for your dog.
I'll be honest, the one I use isn't made for dogs at all. Its a rear LED bike light. It's very small fits onto her harness perfectly and does the job.
However, there are some great dog ones out there like this one.
Emergency Pocket Torch
I have a very simple torch like this one here. It just saves fiddling around with my phone. I have carried one of these since Luna got a thorn stuck in her poor during an evening walk. I could tell something was up with her, but I really struggled to find where the thorn was.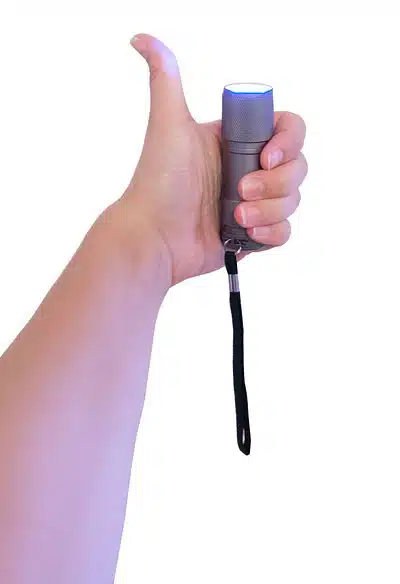 I used the phone on my torch to sort it out, but it wasn't quite bright enough and was a real faff. Therefore, if you have room in your pockets I'd recommend carrying a little pocket torch. The batteries last for ages in these things and you might end up needing it one day.
Head Torch
Another good alternative to a pocket torch is a head torch. I guess this depends on where you are walking and how dark it is. I live in a town that's fairly well lit so it's not needed. However, when we have been on holiday in rural places its something I always carry on me just in case as some roads don't have any street lights on and I want to ensure both mine and Luna's safety on dark roads.

No products found.
Meeting Other Dogs
Some dogs, just like us, can be a bit nervous at night. I wouldn't say Luna is a nervous walker (despite her being nervous of people) but she does seem to stay closer to me at night and walk that bit better without pulling at all.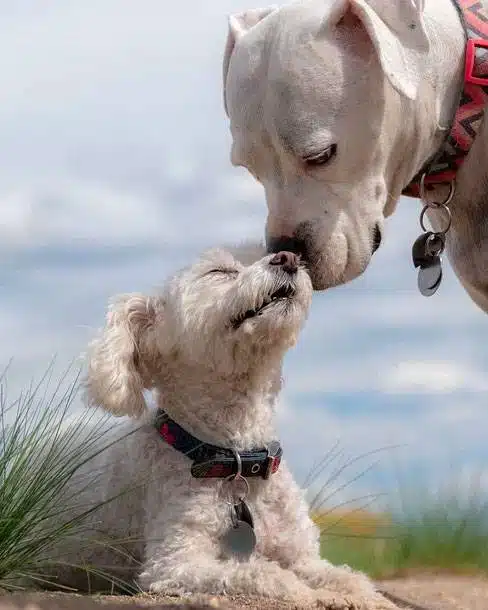 Other dogs you meet at night may be a bit more nervous though, so it's always good to give them a bit more room. Unless they are a cockapoo then they will probably want to jump all over you and your dog 🙂
Dogs Can See Better Than Us At Night
Dogs eyesight is a lot better than ours. They are likely to see stuff before we do so don't worry too much about them not seeing stuff.
Watch Out For Push Bikes
With all the above stuff on your dog and with you, this should not be a problem. However, I'd keep your dog on a slightly shorter lease than usual if you can. We once had a cyclist clip luna at the last minute, no one's fault really, it was just a small piece of pavement and it made me realise that Luna was not as visible as she should be.
Be More Alert
It goes without saying, that you seem to get more weirdos out at night. I sometimes walk a route that takes in some more main roads just in case anything happens.
Mike is the proud owner of a 7-year-old Cockapoo named Luna. He loves to share stories, tips and information about owning a Cockapoo. With over7 years of experience as an owner, Mike is passionate about helping others own and care for their dog.
Top 5 Popular Cockapoo Products