Choosing the best Cockapoo harness is something that needs a bit of time and thought put into it.
The perfect harness will let you keep him safely under control while walking without hurting him or making him uncomfortable. On the other hand, if you choose poorly then you might not be able to fully control him and he might even get badly hurt if he pulls a lot and it cuts into him.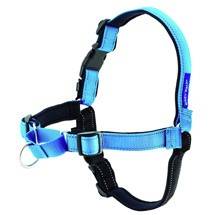 Our Top Pick
Petsafe Easy Walk
4 sizes
No pull
Prevents choking
Check Amazon →
Read our review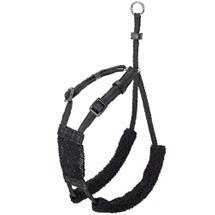 Top Pick 2
Company of Animals
Non-pull harness
Adjustable straps
Padded for comfort
Check Amazon →
Read our review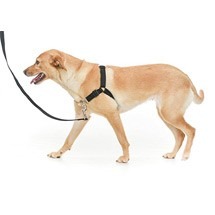 Top Pick 3
Chaos Non Pull Harness
Non-pull harness
Easy to fit
Made in the UK
Check Amazon →
Read our review
This is an especially important issue for Cockapoo owners to consider. Since they contain a lot of Cocker Spaniel genes in them, Cockapoos tend to pull a lot when you take them out with a lead and harness.
Therefore, it is a good idea to look at the following factors before deciding how you get the right harness to enjoy walking with your Cockapoo even more and to keep him comfortable and safe at the same time.
Its worth noting that these harnesses alone will not stop your dog pulling and you should still get some expert training on how to walk your cockapoo.
Best Harness for Cockapoo (Some Choices)
1: PetSafe Easy Walk Deluxe


A very neat harness finished in a fetching pale blue, this one is designed with an easy rest strap across the breastbone for added comfort. It has two quick-snap buckles, the easiest type providing an easy fitting, and is made from durable material for a long life. Neoprene lining is comfortable for the dog, it is reflective for extra safety, and it has four adjustment points for fit. This one can be fitted and removed surprisingly quickly.
2: Company of Animals Non-Pull Harness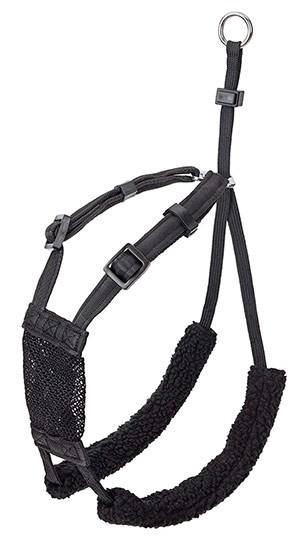 This harness, finished in black, is a traditional design that uses the standard 'squeeze and lift' action to deter the dog from pulling. It has security locks to prevent over-tightening – so is very safe for the dog – and is designed with a chest mesh fitment for added comfort. It is very simple to adjust to the comfort and fit of your individual dog, too. Designed for training medium-sized dogs that have a tendency to pull when walked, this one is nicely made from quality materials.
3: Non-Pull Dog Harness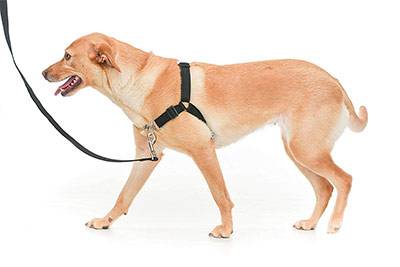 A very simple harness for medium-sized dogs, this one is again designed to stop dogs from pulling. If you have yet to try your dog with such a harness, you may find the difference when out walking is impressive. This one is finished in black, made from strong materials and is very easy to fit: it slips onto the dog as you would a collar, and all you need to do is adjust to fit. It does what is required with no trouble at all, and with a little practice, you will find you have your dog walking well in no time at all.
4: Lifepul Non-Pull Dog Harness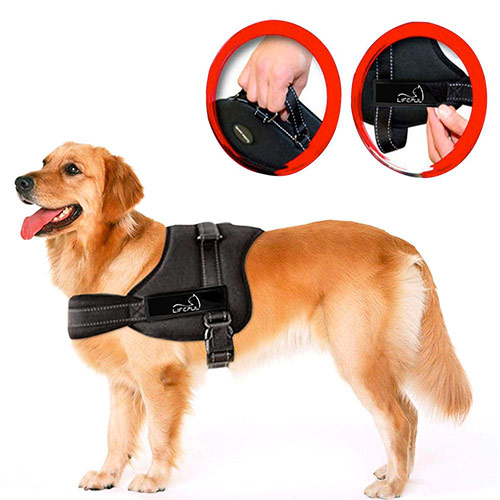 This harness comes complete with a full vest for the dog, which adds padding and comfort and helps to stop the dog from pulling. It does mean it needs a little extra fitting compared to some, but it is very good. The entire harness and vest is an integrated design so once you have it on the dog, all you need to do is connect, adjust and enjoy walking without pulling. This is a very clever item and one that has many satisfied users so far. Designed for medium-sized dogs and finished in black, it is good value.
5: Ancol Training Harness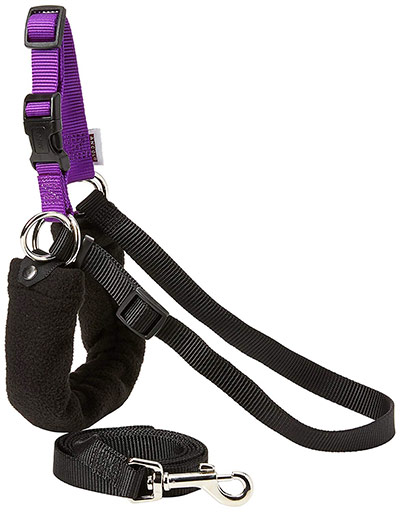 This cleverly designed yet simple harness utilises two areas of control – the breast and under the belly – and fits nicely and comfortably on medium-sized dogs. It is finished in a very nice purple colour and also comes with a lead as part of the set, plus you get a DVD training video to help you get the best enjoyment from your walks. It is not as sophisticated as some but is designed to do the job at hand, has many satisfied customers.
6: DPower Harness with Leash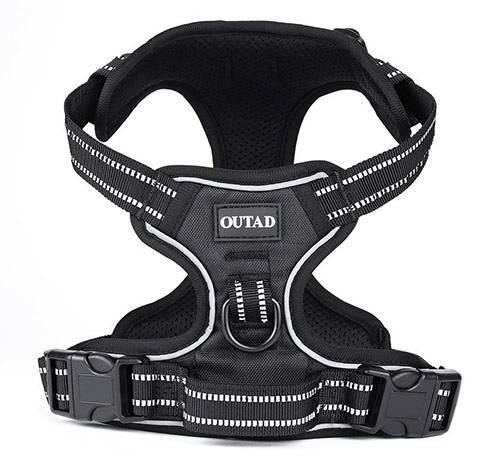 This harness, which also comes complete with a leash, is a full-on design that uses a breastplate and adjustments to create the perfect harness. It is designed for medium-sized dogs and while not as simple to fit as some, is very effective. Made from durable, reflective material with plenty of padding for the dog's comfort, this harness adjusts at the breast and belly, and can be bought in a variety of colours and in different sizes. If you want a serious harness, perhaps for a difficult dog then maybe this one is for you.
7: Dog and Field Figure-8 Anti-Pull Lead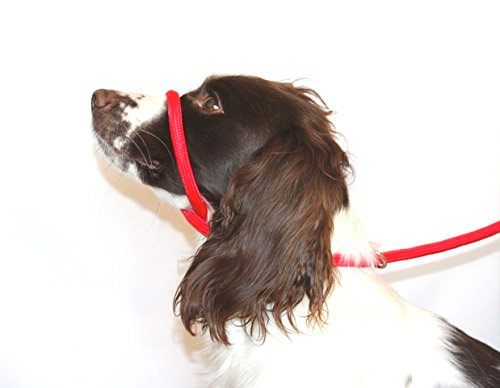 This one differs from the rest of the list as it is not strictly a harness, but a lead that offers restraining capability. It will therefore not be to everyone's liking, but it does do an effective job. It works by harnessing the dog's snout in a comfortable yet effective fashion, so is effectively a head-halter. It is finished in red, made from durable, quality materials and is 2-metres in length so you have plenty of play. With fitting and user instructions included, this one is good value and recommended for working dogs.
8: No Choke Front-leading Harness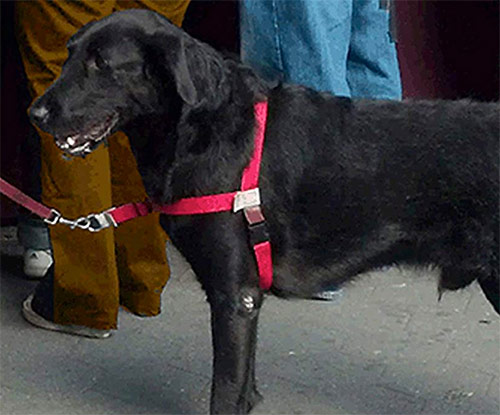 This one is a standard design that offers the usual front-leading method, as in most conventional dog harnesses. It is made from strong material that will stand the test of time and is very easy to fit. Reflective materials mean you can be seen at night from 300m, and it is fully adjustable for the individual dog. This one is chafe-free, too, and is connected by very secure links, so you can fit and adjust it to your dog's comfort in no time, and it comes in 8 colours. However, it will cost you upwards of £25 which is by far the most expensive of this group – it is, though, a quality item.
That's our list of the best no-pull harnesses, and we think we have covered all the different designs. Have a read through again, check them out, and make sure you get the best out of your dog walking time!
The Different Types of Cockapoo Harness
To start with, you will soon realise that there are a number of different types cockapoo harness that you could buy for your dog. The simple truth is that many of them are not going to be good enough for you to use confidently but some of them could be perfect.
The wrong type of cockapoo harness could lead to a number of unpleasant situations developing over time. For example, it could rub your Cockapoo painfully, fit him poorly or just not do the job that you need it to do.
Many dog owners get the wrong sort of harness and end up throwing it in the bin almost straight away. Others might last a bit longer but still end up being a waste of money or even dangerous for your dog's health.
Look to avoid harness that is made of flimsy material, cut into your dog's skin, choke him or chafe him. With some models, the defects might be obvious but in other cases, you might need him to try it on to be able to see how well it fits.
Once you have eliminated a few different models it should be clearer which type is going to be best for your Cockapoo. Don't worry about being fussy, as there are plenty of harness models out there and you are sure to find the perfect one if you keep on looking.
You certainly don't want to settle for second best and end up regretting it later on.
In this way, the following are a couple of popular types of harness that you might want to consider for your Cockapoo.
The Anti-Pull Harness
As mentioned earlier, Cockapoos have a habit of pulling on their harnesses when you take them out for a walk. This means that many different harnesses could up choking or otherwise hurting them if you aren't careful.
You might also find it an incredibly frustrating experience when you go out for a walk and he is constantly pulling away from you. This can make any stroll with your Cockapoo into a far more difficult experience rather than being something for you both to enjoy.
Therefore, you might want to look for an anti-pull or no pull harness to solve this common problem. These work by being attached underneath the dog's chest, meaning that he simply can't pull on it with this full weight.
In this way, you will feel completely in control and he will be safe from harm. To get one of these models you can search for anti-pull, no pull or walk your dog with love harness online.
This video does a good job of explaining the benefits of using this kind of harness. If it sounds like the kind of useful harness that you need then why not take a look at the different models for sale just now and you are almost certain to find one that you like the look of.
Easy Walk Harness
Another option you might like to consider is the easy walk harness, which has a number of benefits as explained in this video. It has to be said that public opinion is somewhat divided over how good this model is and how pleasant it is for dogs to use but it is worth finding out more about it so that you can make a fully informed decision.
In this case, the lead attachment is again at the front and lies even lower on his body than in the last example, around the breastbone to be exact. The idea is that this clever design works to encourage the pooch to walk forwards, rather than stimulating his natural desire to pull back against a harness.
They are typically fitted quickly and easily with a couple of snap buckles. You are then ready to take him out for a nice walk together and see whether it stops him from pulling.
Some Cockapoo owners love this style of harness and find that it is the ideal solution to a dog that pulls a lot normally. However, others aren't so convinced and some even say that it appears to them to be a cruel way of taking their dog for a walk.
The Factors to Consider
You will want a harness that is comfortable for your Cockapoo, that provides a good fit and that appears to be decent quality. In this way, it will give you years of good service and help your dog to feel safe and secure when you go out together.
He will enjoy going out for walks in this way too. If he is currently reluctant to put on his harness and get out for a stroll then it could be that the problem stems for a poorly fitting harness.
Obviously, we all need to take cost into account when looking at Cockapoo accessories like this. However, buying the cheapest model on the market is only likely to result in a poor quality harness that doesn't last long.
A better move is to choose a harness that costs a decent amount and fits all of your needs. Paying a little bit more to keep your dog safe and for a harness that will last a lot of time makes perfect sense.
Remember the following issues when making your final decision
Comfortable materials. The materials to avoid most of all are pure nylon webbing, highly stretchable fabric and un-lined leather. Instead, look for padded fleece, padded neoprene and padded air-mesh harnesses. It is important to look for fully lined models that don't leave anywhere chafing against his skin. If it has too many clips then this is another problem that could cause chafing.
The size. Since Cockapoos are fairly small, you will most likely to be looking at the small or medium sized models for him. Some manufacturers offer tiny harnesses for the likes of Chihuahuas and Miniature Dachshunds, so don't assume that you need the very smallest one you can find.
How big he will grow. By around 9 months your Cockapoo should be pretty much as big as he is ever going to be. Therefore, you can safely buy a harness at this point and feel confident that he will be able to keep on using it.
Customisation. A customised Cockapoo harness offers the best way of giving your dog something that fits him perfectly and makes him feel really comfortable at all times. This is especially true if he has a big chest or some other aspect that makes a standard model not quite right.
The sturdiness. Does your Cockapoo tend to pull with a lot of strength? If he does then you will be particularly interested in getting a sturdy harness that he can't destroy. Despite their small size and cute looks, many Cockapoos are a lot stronger than they look. As well as having to look for a new harness, it could also be dangerous if he breaks free while you are both outside.
A double ended lead. Not every dog owner is aware that a double ended lead can be a terrific help in controlling their pooch. This type of lead clips on to the harness and helps you to stop him from pulling. It can also be a big help for a Cockapoo who has a bad posture.
The price. There are plenty of cheap harnesses around but putting price over comfort and the other factors aren't a great idea. Instead, you should look to spend a fair amount on getting a good quality harness that he can use without any problems.
Summary
With so many types of harness around it is easy to see why not everyone goes for the exact same model. Certainly, it makes sense to look around in order to find one that seems ideal for your dog and your lifestyle.
If you can try before you buy then this is perfect, as you will be able to see immediately that he is comfortable and that you are in control. Remember, the same harness doesn't suit every dog and what other owners are happy to use might not seem right for you.