Gone are the days when a dog was just a dog. Some couples choose to have a furbaby over a human one, while other people prefer to hang out with their dog over a person. It figures then that names usually reserved for humans are now being given to our canine companions and we've got a list of cockapoo names that are popular and unique to help you make your choice.
If you are thinking about getting a cockapoo puppy then the names below include some great cockapoo girl names and some great cockapoo boy names that we think are perfect for not just cockapoos but all dog breeds. Let's get started and look at these great Cockapoo names. Let's take a look at some of the best cockapoo dog names for a new cockapoo puppy, both males and females.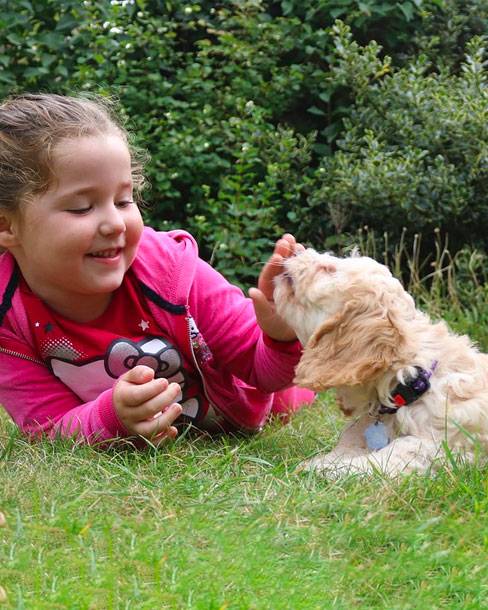 Chocolate Cockapoo Names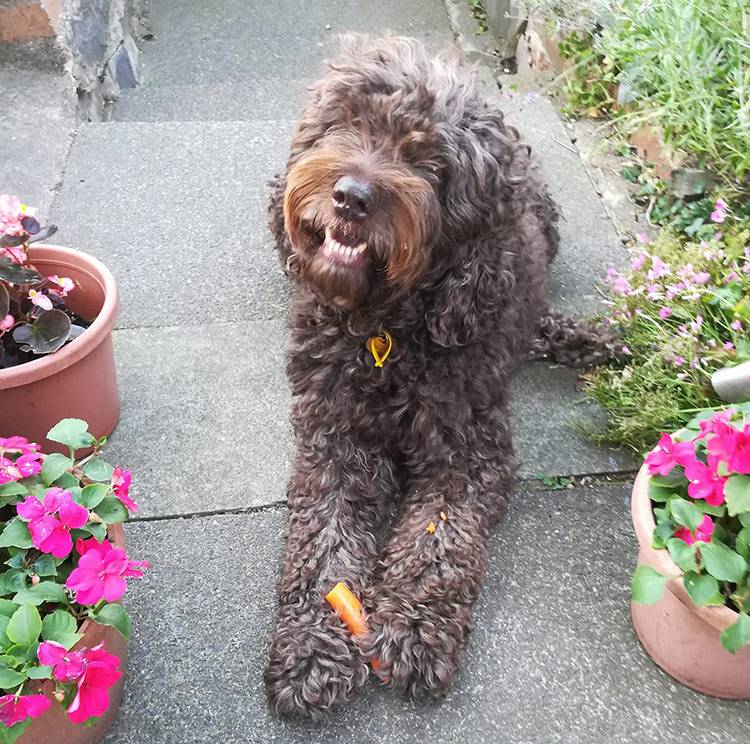 Chestnut – Many of the best dog name ideas come from things we love. Chestnuts are a delicious warming wintertime snack, that most have fond memories of eating at one point in their lives. It will also complement your pooch perfectly, as he is a warm friend who you can build memories with.
Chewbacca – If you are a Star Wars fan, or you like to reference films and want to name your cockapoo dog after an iconic movie character, why not name him after Han solo's trusty furry companion, Chewbacca.
Coco – If you love chocolate, or you think the name has a nice ring, cocoa might be the name for your puppy. Why not name your main love in your life after your other love.
Coffee – A nice, warm cup of coffee is comforting after a stressful day, as is your cockapoo dog.
Whisky – Sticking with drinks for name ideas, maybe you would prefer something a bit more robust, or you are a fan of strong alcoholic drinks. Whisky is one of those cool names, male cockapoos will suit.
Bears – Bears are simultaneously, cute and cuddly, but powerful. Which is similar to a cute cockapoo.
Cthulhu – Why not call your little monster Cthulhu after the Lovecraftian horror. Cthulhu is ideal for your little horror if he likes to chew things up or steal food. Great if you are a fan of good classic science fiction.
Muffin – How about something sweet for your cockapoo puppy, like a muffin? A classic for a reason, perfect for your little sweetheart.
Nutmeg – If your puppy can be both sweet and savoury, or you enjoy the taste of nutmeg, this might be suitable for your new pet.
Timber – Wood might not be an appealing moniker for a brown pooch, but timber has a nice ring to it if you have a cockapoo with a brown colour.
Wookie – Chewbacca might be a bit generic or obvious to you. If that is the case, Wookie would be great for a brown puppy, if you're a science fiction or film fan.
Apricot Cockapoo Names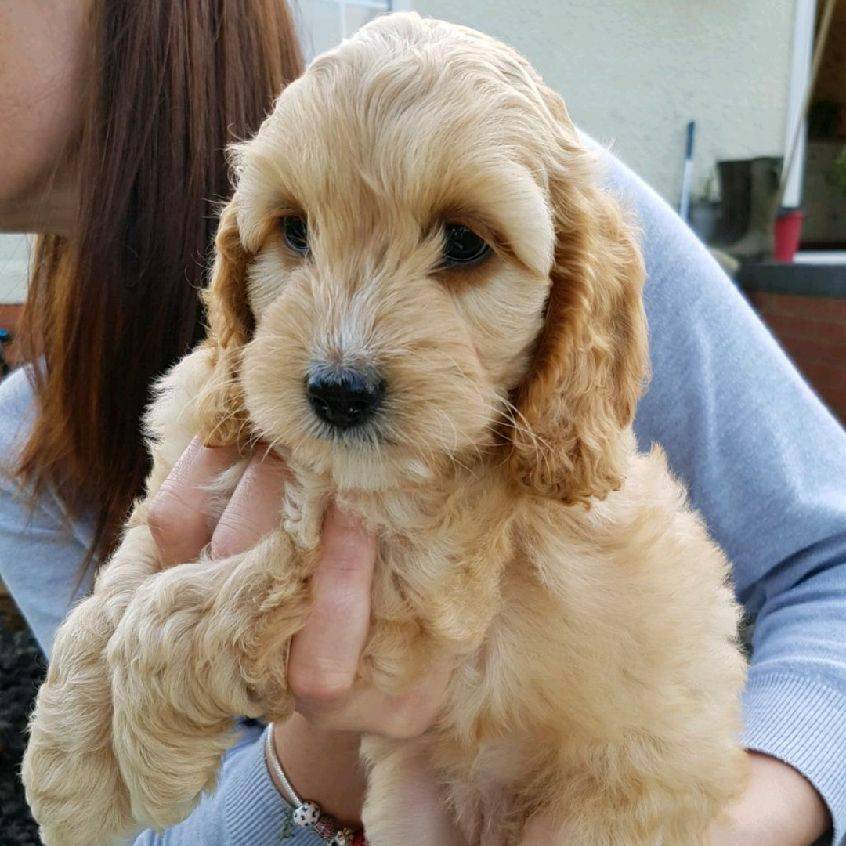 Nemo – Looking to movies and TV shows, as we've already shown, is a great way to get some fun dog name ideas. From the family movie Finding Nemo, this is ideal for your apricot coloured cockapoo if you like good animated family fun.
Honey – They say there is not anything sweeter than a small and cute girl pup who loves you and is loyal, so why not choose the natural sweetener, honey? One of the best cockapoo dog names I think.
Butternut – Who doesn't like butternut squash? An option for naming your apricot coloured cockapoo is naming it after this wonderful food.
Sunny – Is there a happier moniker for your puppy? Sunny is perfect for a girl cockapoo who brings you joy and happiness.
Pumpkin – Another good one is pumpkin, a popular Autumn food. Who doesn't love pumpkin pie?
Marigold – The natural world and plants can provide some lovely cockapoo names. For example, a beautiful flower that can be used as an effective herb for skin inflammation, marigold is wonderful for your apricot cockapoo.
Ginger – Another wonderful spice that has its use in sweet things like ginger beer, some cakes and ginger nut biscuits. Ginger also works well as being a lovely option for your furry friend.
Peaches – Another sweet name for your sweet little pooch, perfect if you love peaches.
Tango – If you enjoy Latin American dance, or a bottle of Tango fizzy juice.
Citrus – Have orange or lemon in juice, cake or almost anything, Citrus is a great idea for your puppy who can be sweet or sour.
Red Cockapoo Names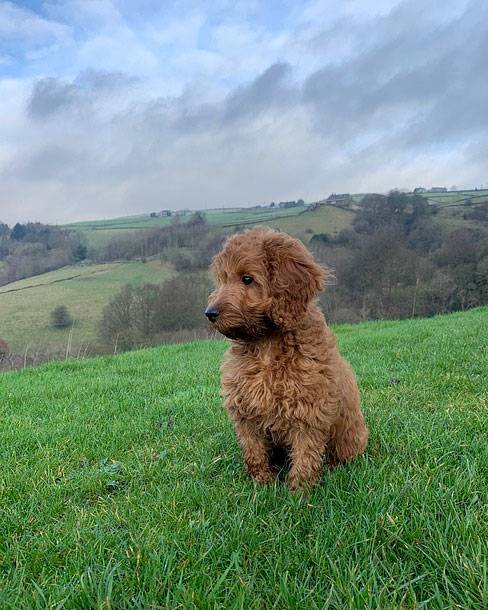 Crimson –If your red cockapoo has a deep red colour, is a great choice.
Brandy – Another name for strong alcohol lovers.
Autumn –Red is a colour of Autumn, so if your favourite time of the year is October and November, Autumn could be a great name for your red puppy.
Elmo – Just like a cockapoo, Elmo is cute and loveable.
Daredevil – If you are a superhero fan, name your pooch after Matt Murdoch's Marvel character.
Burgundy – Another deep red name with a lovely red coat.
Cayenne –Cayenne pepper is a red-hot chilli pepper, perfect if you like spicy food!
Blaze- If your puppy can have a fiery temper, this is an apt name.
Amber – An amber is a beautiful gem that can have a lovely red colour, perfect for your little gem.
Cinnamon –Another spice that is used for sweet things, cinnamon is an aromatic spice.
White Cockapoo Names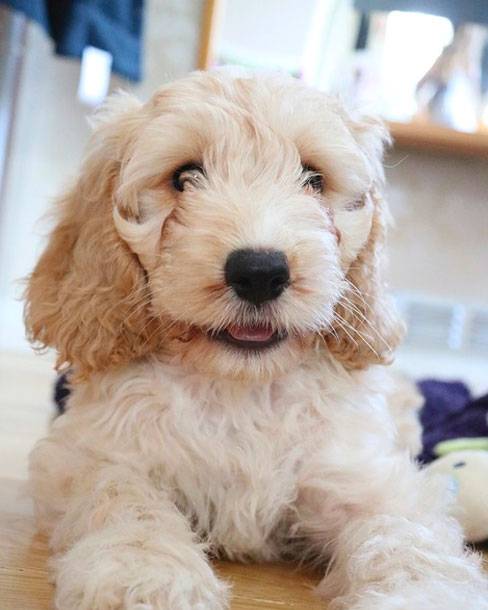 Snowy – Sweet and simple, this name could be used for any pup with a nice white coat.
Snoopy – After Charlie Brown's loyal pal, Snoopy is a possibility for any fan of the Peanuts comic strips.
Cotton – A cute and fluffy name for a cute and fluffy white doggy that resembles cotton wool.
Custard – If you like custard and/or have a silly puppy, this name could be the one for your pooch.
Chardonnay – If you like wine, this fancy-sounding name is perfect.
Fluffy – Perfect for your fluffy cockapoo.
Bianco – "Bianco" means white in Italian, great for a white cockapoo.
Blizzard – Perfect for a white cockapoo with a lot of energy that's fast like a blizzard of snow.
Buttermilk – A name that is great for a small and cuddly ball of fur.
Diamond – A cuddly lapdog would suit the name diamond.
Top Boy Names for Your Cockapoo
Alfie – It's definitely one of our favourite cockapoo names. It just feels like a best friend kind of name.
Teddy – This name is very in at the moment. It also suits this breed perfectly.
Dexter – Dexter's a great name and one that is in fashion.
Oscar – Ah, Oscar. This was my granddad's name so it's extra special.
Barney – A very popular name! We love it.
Milo – It's a name that's stood the test of time.
Cooper – Cooper has such a nice ring about it.
Ralph – I know a poodle called Ralph and it suits him perfectly.
Henry – So regal, so royal.
Stanley –Stanley! We just love it.
Jasper – The name of a reddish-brown semi-precious stone. Perfect if you have a reddish-brown precious pooch.
Cockapoo Female Dog Name Ideas
Poppy- I'm not sure if it's from the movie Trolls or because it's one of my favourite flowers, but I can see why Poppy would be a popular female cockapoo name
Molly – Good golly Miss Molly! Yup, that's what we'd be saying a lot if our pooch was a Molly.
Luna – Celestial, heavenly, Luna is the perfect name for your four-legged little girl.
Ruby – Ruby is a classic name, especially if your female cockapoo was born in July.
Matilda – I love Roald Dahl so it goes without saying I love the name Matilda.
Maisie – Did you know this is the Scottish diminutive form of Margaret? And here I thought it was Maggie.
Winnie – Winnie the Poo! It needs no further explanation.
Lilly – As precious as the flower itself, Lilly is a sweet name. We think this is one of those cute puppy names for any cute cockapoo that loves running around in the great outdoors.
Lottie – Lottie is the name of a friend that'll be with you through thick and thin. So we think it's a great name for your loyal companion.
Daisy – "Daisy, Daisy give me your answer do!" Daisy, Daisy will you be me my cockapoo puppy?
Bailey – An evergreen name that we think is very pretty.
Funny Cockapoo Dog Names
Still, stuck for cockapoo names? Check out Dogphase.com and use their name dog name generator.
We hope we have helped you find some cockapoo names we think we picked out some top cockapoo names for you. If none of these suits you then have at what popular poodle and cocker spaniel names out there as this breed is a mix of them both.
Top 5 Popular Cockapoo Products