Rather than asking how far your Cockapoo can walk, you should ask how far he or she should walk, especially if it's still a puppy.
You see, Cockapoos are one of the dog types disposed to hip dysplasia. This means too much exercise before their bones are fully developed can lead to serious long-term health issues. But, on the other hand, no exercise at all is just as unhealthy.
So, where is the happy medium? And what should you keep in mind when walking your Cockapoo? How long should you walk a cockapoo? This will all be answered below.
How Long Can I walk My Cockapoo Puppy?
Contents and Quick Navigation
Experts recommend that you walk a puppy for five minutes per month of his age until he is fully grown. So, for example, 15 minutes at three months old, 25 minutes at five months, and 40 minutes at eight months. If necessary, these walks can be split up during the day, so your puppy doesn't get over-tired. How often Should I walk my Puppy? Let's find out!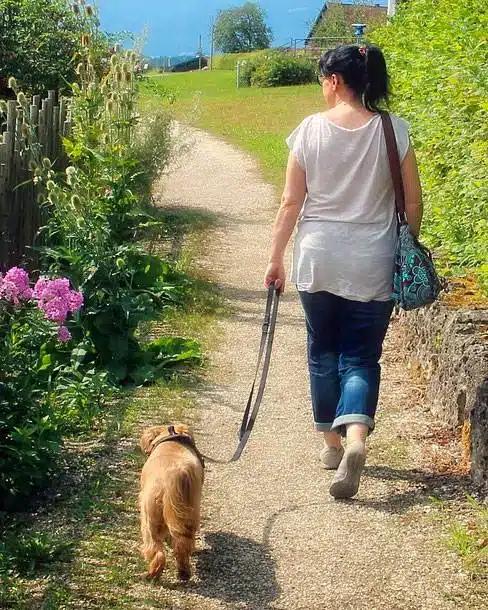 Before 12 weeks old
Have you noticed, if your puppy is still with its mum, how she keeps it from wandering off too far? This allows pups to explore just enough without getting into too much trouble and also allows them to find their feet.
Rather than walking, puppies should get enough exercise from regulated playtime, with lots of rest at home and in the garden. Remember, your puppy shouldn't be going for walks until he has had all his jabs, usually around 12 weeks old.
12 to 16 weeks
How far can a 12-week-old puppy walk? This is when you can start getting your Cockapoo used to a leash. It is best to put it on when other things keep him occupied, like playtime or dinner time. It is also a good idea not to turn it into an event.
You can start holding the leash as soon as he looks comfortable with it on. But don't try and get him to 'heel' immediately. And don't get annoyed. Take it slowly and let him come to you on his own, and include a lot of praise and a treat or two when he does.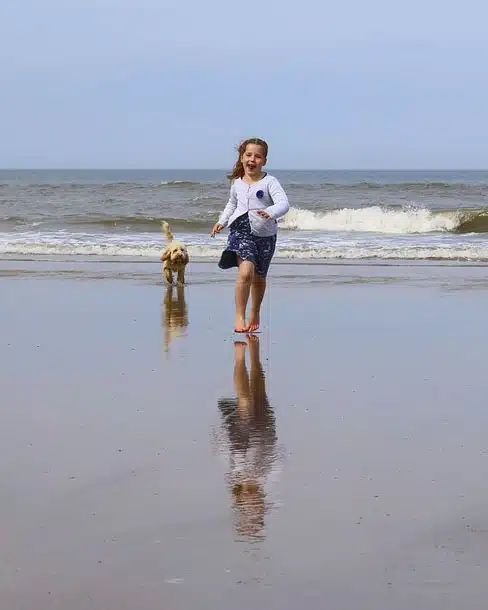 16 weeks to 9 months old
This is where the fun begins.
You and your pup can hit the road for proper walks at this stage. But don't go all gung-ho and expect him to walk for hours. It is important that you slowly start building up his exercise time.
To do this, you can keep a diary or use any of these great walking apps to check that you are pacing your pup correctly. Keep an eye out for signs that your Cockapoo is getting tired, and if necessary, carry him home or pop him in the car.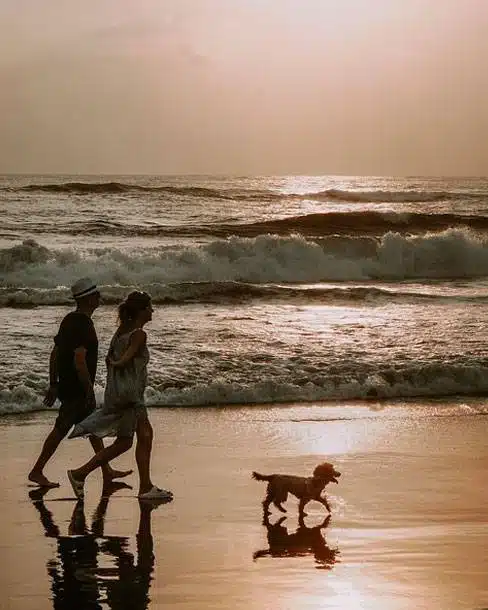 9 to 18 months old
At 12 months, your pooch has gotten into the full swing of walks, but even at this age, his joints are still growing, so it is important to keep him from over-exercising. By 15 months, however, his bones and joints will be fully developed, and you can now let him walk (and run and play) until he is all 'cockapooped' out.
As a guide, you should walk an adult for one hour for every 30 pounds, so if your Cockapoo is around 15 pounds, a 30-minute walk is advised. You can adjust accordingly if your dog prefers longer or shorter walks. After all, no one knows him better than you do.
In cases where your cockapoo is out of shape, hasn't walked for a while or is overweight, we suggest you start with short walks and slowly build up.
Can A Cockapoo Walk 10 Miles?
It's never quite as simple as asking, can a Cockapoo walk 10 miles? You could just as well ask, can a Cockapoo walk 1 mile?
There are so many variables at work that there's no simple answer. For example:
How old is the Cockapoo?
Is the dog overweight?
Does the dog have any fitness issues?
Does your Cockapoo suffer from arthritis?
How often do you exercise your Cockapoo?
What distance is your Cockapoo currently walking?
What type of terrain are you expecting to walk in?
How hot is the weather? Heat exhaustion is a severe issue.
To get your Cockapoo used to walk long distances, you'll need to start slowly and gradually increase the distance they walk. 
Both Cockers and Poodles are active dogs initially bred to work long and hard hours in all weather conditions. These genetics are undoubtedly where the Cockapoo gets all its energy. Cockapoos don't do well if they don't get enough exercise throughout the day. But typically, that is more likely to come from several different walks each day, all for much shorter lengths of time.
Walking ten miles in one stint is a slightly different proposition.
I'm not saying a young, healthy Cockapoo couldn't take on ten miles in their sleep because they probably could and still be lively enough at the end of the walk.
But going back to what I mentioned is not straightforward, and you need to consider the above conditions.
Can You Over-Exercise A Cockapoo?
It's a crucial question because the answer is absolute. Yes, you can over-exercise a Cockapoo; you can over-exercise any dog, even hounds that live for running. Cockapoos' exercise requirements vary widely depending on a dog's age, breed, health, and fitness level, as they do for humans.
If you haven't exercised regularly for several months and suddenly decided to go on a ten-mile run, it's improbable that you would even finish.
Even if you have put yourself through a strict exercise regimen to get into shape, you can't expect your Cockapoo to keep up with you if you're training for the next half marathon.
Signs Of Over-Exercising Your Cockapoo
If your Cockapoo is being over-exercised, it will show several symptoms. Most dogs will endure the discomfort to keep up with you; you must keep your eye out for your Cockapoo in these circumstances. 
General Soreness: Sore and stiff muscles after exercise indicate that your Cockapoo has had more exercise than it should. Let your dog take it easy for the next few days and take a few short walks. 
Exercise Exhaustion: While it's normal for a dog to nap after a workout, it may be too much for them if they don't want to leave their bed all day.
Refusing to keep up during exercise: If you find your Cockapoo is hanging back or slowing down significantly during exercise, they are struggling, for whatever reason. Consider stopping and giving your dog a treat and some water if this happens while you're out walking (have some on hand at all times), and return home the quickest way possible.
Heat Exhaustion: It can be exceptionally dangerous if a dog suffers from heat exhaustion. Be extra careful you don't over-exercise your dog in hot weather. Scorching weather can overcome even the fittest dogs. 
Build Up Your Cockapoos Fitness Levels
Unless your Cockapoo already has boundless energy and you often go on long walks together, you'll need to build up their fitness levels before you undertake anything like a ten-mile or more hike.
A Few Handy Tips for Walking Your Cockapoo
Make sure you have a poo bag with you on your walks. It is just a common courtesy to clean up after your pooch.
Plan a route with dog-friendly stops if you make a day of it. Remember basic 'petiquette' when you are out in public with your pup. This means ensuring he is tagged and has a collar and leash, for example.
There are some incredible places to walk your dog around the UK. Spend a little time online to find new and exciting spots to explore, including Canal and River Trust, the Woodland Trust, British Waterways as well as Hikideas, a website that allows you to create your walks or find walks near you
Mike is the proud owner of a 7-year-old Cockapoo named Luna. He loves to share stories, tips and information about owning a Cockapoo. With over7 years of experience as an owner, Mike is passionate about helping others own and care for their dog.
Top 5 Popular Cockapoo Products