Rather than asking how far your Cockapoo can walk, you should instead be asking how far he or she should walk, especially if it's still a puppy.
You see, Cockapoos are one of the dog types that are disposed to hip dysplasia. This means too much exercise before their bones are fully developed can lead to serious long-term health issues. But, on the other hand, no exercise at all is just as unhealthy.
So where is the happy medium? And what should you keep in mind when walking your Cockapoo?
How Long Can I walk My Cockapoo Puppy?
Experts recommend that you walk a puppy for five minutes per month of his age until he is fully grown. So, for example, 15 minutes at three months old, 25 minutes at five months, and 40 minutes at eight months. If necessary, these walks can be split up during the day so that your puppy doesn't get over-tired. How often Should I walk my Puppy? Let's find out!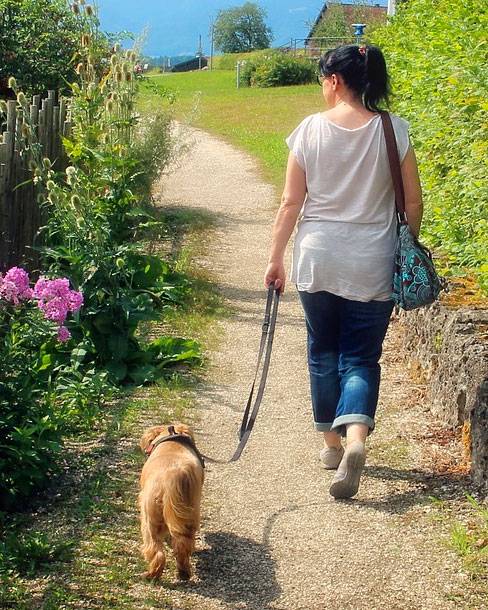 Before 12 weeks old
Have you noticed, if your puppy is still with its mum, how she keeps it from wandering off too far? This allows pups to explore just enough without getting into too much trouble, and also gives them the opportunity to find their feet.
Rather than walking, puppies should get enough exercise from regulated playtime, with lots of rest in between at home and in the garden. Remember, your puppy shouldn't be going for walks until he has had all his jabs, which is usually around 12 weeks old.
12 to 16 weeks
How far can a 12-week old puppy walk? This is the time when you can start getting your Cockapoo used to a leash. It is best to put it on when there are other things to keep him occupied, like playtime, or dinner time. It is also a good idea not to turn it into an event.
As soon as he looks comfortable with it on, you can start holding the leash. But don't try and get him to 'heel' immediately. And don't get annoyed. Take it slowly and let him come to you on his own, and include a lot of praise and a treat or two when he does.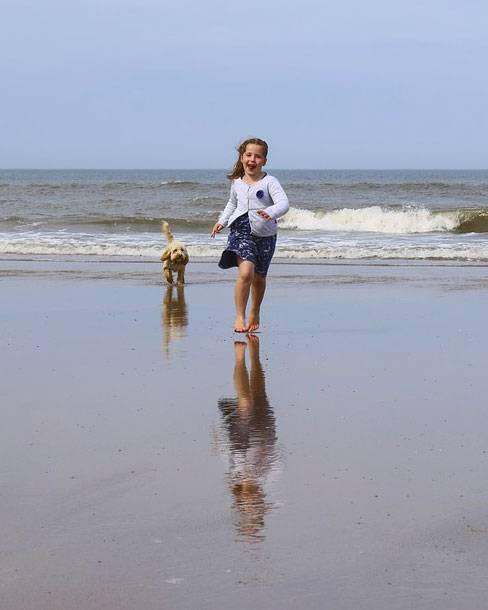 16 weeks to 9 months old
This is where the fun begins.
At this stage, you and your pup can hit the road for proper walks. But don't go all gung-ho and expect him to walk for hours. It is important that you slowly start building up his exercise time.
To do this, you can keep a diary, or make use of any one of these great walking apps to check you are pacing your pup correctly. Keep an eye out for signs that your Cockapoo is getting tired, and if necessary, carry him home or pop in the car.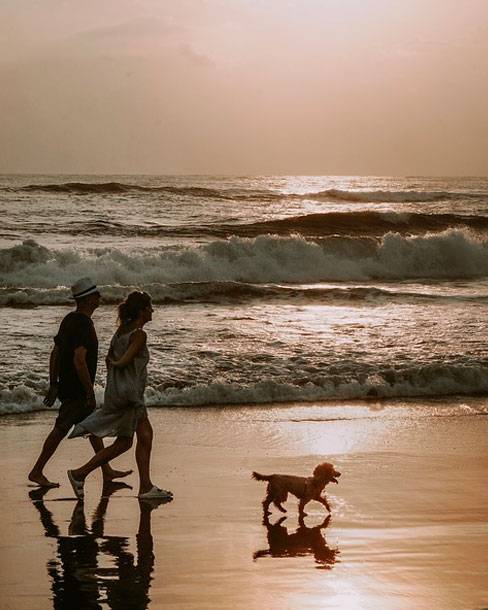 9 to 18 months old
At 12 months your pooch has gotten into the full swing of walks, but even at this age his joints are still growing, so it is important to keep him from over-exercising. By 15 months, however, his bones and joints will be fully developed, and you can now let him walk (and run and play) until he is all 'cockapooped' out.
As a guide, you should walk an adult one hour for every 30 pounds, so if your Cockapoo is around 15 pounds, a 30-minute walk is advised. If your dog prefers longer or shorter walks, then you can adjust accordingly. After all, no one knows him better than you do.
In cases where your cockapoo is out of shape, hasn't walked for a while or is overweight, we suggest you start with short walks and slowly build up.
A Few Handy Tips for Walking Your Cockapoo
Make sure you have a poo bag with you on your walks. It really is just common courtesy to clean up after your pooch.
If you are making a day of it, plan a route with stops that are dog-friendly. Remember basic 'petiquette' when you are out in public with your pup. This means making sure he is tagged, has a collar and leash, for example.
There are some incredible places to walk your dog around the UK. Spend a little time online to find new and exciting spots to explore, including Canal and River Trust, the Woodland Trust, British Waterways as well as Hikideas, a website that allows you to create your own walks or find walks near you
Top 5 Popular Cockapoo Products