Like humans, every dog needs exercise but deciding what 'a lot' is is like asking you, our readers, who has the cutest cockapoo? There's no correct answer. All dogs should have 20 minutes of exercise a day, at the very least. But what if your dog needs more, or maybe even less?
While there isn't a "one-size-fits-all" approach to knowing your dog's exercise needs there are a few things that can help you make an informed decision of your cockapoo exercise needs.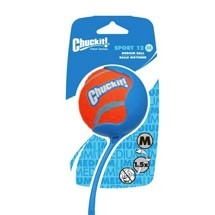 Our Top Pick
Chuckit! Pocket Ball Launcher
The best thrower!
Takes standard sized balls
Good handle
Check Amazon →
Read our review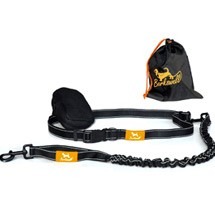 Top Pick 2
Hands Free Running Dog Lead
Shock absorbing
Reflective stitching
Adjustable belt
Check Amazon →
Read our review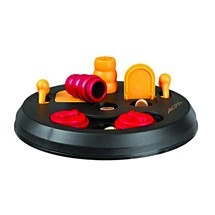 Top Pick 3
Trixie Dog Activity Flip Board
Mind game for dogs
Easy to use
Non slip base
Check Amazon →
Read our review
Your Dog's Age and Weight
A good place to start is his age, weight and any physical ailments or disabilities. A good rule of thumb is 20 minutes, like we mentioned earlier but if you have an older cockapoo or one that's battling with weight, then those 20 minutes should be a slow walk around the neighbourhood. If he doesn't suffer from any heart conditions try and make sure he works up a little sweat, or pant, whichever comes first. Walking, a slow jog or even playtime with another dog is a great way to get him exercising. Swimming is an excellent option if there are any joint problems.
When he's tired, stop. It's not boot camp, so there's no need to overdo it.
High-Energy Cockapoo
Whether it's excess energy, behavioural issues or because the two of you like hanging out, you can add other forms of cockapoo exercise to keep you and your furbaby fit. Throw a flying disc or ball until you're both a little worn out or sign up for agility training. It's a great way for the two of you to bond, and it'll challenge him physically and mentally. You'll know if your cockapoo needs more exercise.
Spending time at a nearby park means your cockapoo can play with other dogs. Just make sure his vaccinations are up to date, that the park is nice and clean, and that you practice good hygiene too, like cleaning up after him, not sharing water bowls (the dogs, not you). Also, make sure you have a water source for him. There are great portable dog water bottle-bowl combos to keep him hydrated.
Swimming
We know cockapoos love water, so swimming is a good option on hot days, or if you and your pup enjoy low-impact aerobic exercise. Find a spot close-by that offers hydrotherapy sessions for seniors (again your dog, not you) or if that seems like too much effort, you can always splash around in your pool at home.
Alternative Exercise Methods
Whatever your excuse is for not being active with your dog, there's a way to get around it. No place to walk in your area? You work night shifts? You work day shifts? Not enough time? Teach him to walk on a treadmill. It's effective, it's healthy, it's exercise and who knows, you could turn him into a YouTube sensation overnight.
Exercise for Cockapoos
The type of cockapoo you have will also determine how much exercise he or she needs. Teacup or Toy Cockapoos only need a tiny bit to stay healthy and a daily walk around the block is more than enough. Remember though, even on the shortest walk, a teacup 'poo might need to be carried part of the way.
Miniature cockapoos need a lot more physical activity to burn off their excess energy. 2 x 30 minute walks a day or a game of fetch (we recommend Chuck It balls) should do. This will keep them healthy and stimulated and prevent destructive behaviour that comes from boredom. Maxi cockapoos need the most exercise of all. Take them for a jog or play a game of fetch at the park. Playing with other dogs will also wear him out.
At the end of the day, a well-exercised dog makes for a much better companion. A dog that's bored and stuck indoors all day will find ways to stay busy, and that could very well include ripping sofas to shreds (There's a spray to stop that). If 20 minutes of exercise a day seems like too much for you to commit to, then you might need to relook whether a pet is the best option for you.