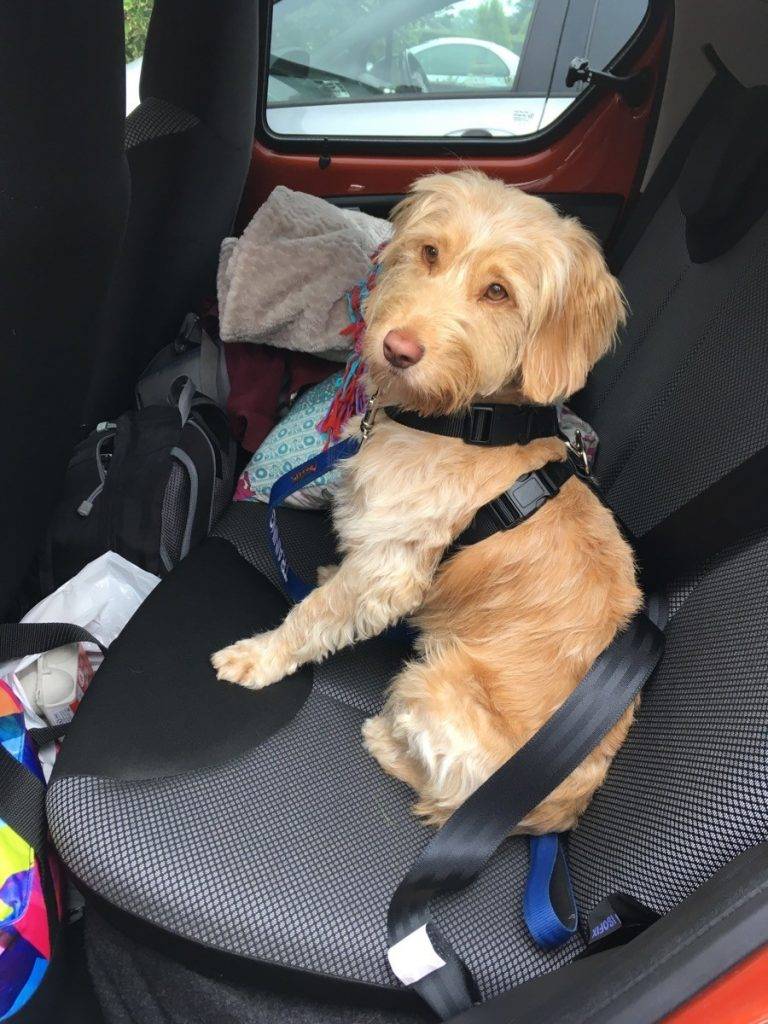 If we could, we would take our furry friends everywhere with us. Short trips are not a problem, but when we want to head out on a road trip, it is worth going over a checklist or two to make sure things go well. The last thing we want is a Cockapoo crisis. Our best friend needs to be as happy and safe as us.
The basics!
You could almost have a bag permanently packed with most of the following basics. A lot of them obvious but very, very easy to forget. Food, treats, snacks, water and food bowls, doggy poop bags, leash and tags with up-to-date information. Favourite toy and blanket to calm those doggy nerves, all stashed in their favourite travel crate.
Every Cockapoo needs to look their best!
How about a brush, dog shampoo, paper towels? You never know who you might meet when you travel. Same goes for your adorable sidekick. What if the dog of their dreams walks around the corner. They absolutely must look their best. A bad hair day is simply not an option.
Sensible stuff.
You have the basics but consider extra medication that your dog is on. Up-to-date documents from your vet are great to have and the icing on the cake, a list of veterinarians in the area you are traveling to.
Road rules.
How about a few pointers to make sure life is smooth on the highway:
Stop frequently and walk your Cockapoo. Never off a leash…. Not the place for a disappearing act.
Stick to regular feeding times.
Never leave your precious pooch alone in a hot car.
Use your air conditioning and heat to make life comfortable for all.
Don't let your furry friend ride in the back of a truck.
Consider anti-nausea medicine, just like you would for yourself.
Crack a window open whenever possible. We all love a sniff of fresh air. Maybe the whole family can stick their noses out of a half open window and smell the world!
Up, up and away.
Flying is a whole new kettle of fish. Flights can be traumatic for both you and your Cockapoo. Your furry friend was not born with wings, so a whole lot has to happen to get your dog into the air.
Check the airline takes dogs and has space.
Make sure the airport you are flying to does handle live animals as freight.
Medical records must be up to date.
Different countries have different requirements.
You may need both local vet and federal/government approved vet signatures on paperwork.
Feed your pooch 4 hours before takeoff. Arrive 2 hours early and walk your dog. Do whatever magical dance you have to do to make your Cockapoo pee and poop.
Make sure the very specific directions are followed with regards the crate.
Favourite toy, clothing smelling of you, water, food, regulation bowls all need to be in the crate.
Flying can be a smooth experience if your preparation is spot on. Even the colour of ink used for the vet signatures can be a stumbling block. Check, check again and confirm before setting off.
Finally, hard to believe, but not everyone wants dogs around. Surf the web and find dog-friendly hotels. Many do not take pets.
Traveling with your Cockapoo should be a wonderful adventure. Think of every eventuality, use the points above as a check list and it will be a trip to remember.