If you have a Cockapoo who loves a bit of rumble and tumble while playing you may find that it costs you a lot of money in the long run. In fact, you will be amazed to see that pet owners pay out an astonishing £4 billion each year in cleaning up after their pets.
Getting your pooch a toy to play with can be a good way of stopping him from ruining furniture, shoes and anything else that is within his reach. Yet, isn't there a good chance that he ends up destroying his toys as well?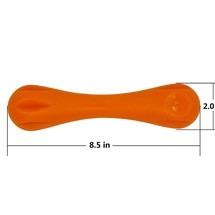 Our Top Pick
Aizara Dog Bone Chew
Eco friendly
Non-toxic
Dishwasher safe
Check Amazon →
Read our review
Top Pick 2
KONG Wild Knots Bear
Durable on the inside
Contains a squeeker
3 colours
Check Amazon →
Read our review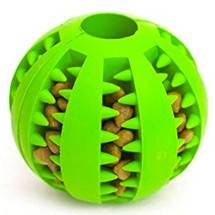 Top Pick 3
Idepet Dog Toy Ball
Helps clean teeth
Improve intelligence
Nontoxic
Check Amazon →
Read our review
Well, we can't guarantee that he won't destroy these toys eventually, but they are sturdy enough to stand up to more punishment than most dog toys. Of course, you might also want to find out why he destroys his toys in the first place.
Aizara Dog Bone Chew Toy Guaranteed Tough Solid Chew Pet Toy, Large (Orange)

This extremely durable Aizara Dog Bone Chew Toy is aimed at giving him hours of fun by chewing it to his heart's content. It won't hurt his teeth but it will give him a lot of fun for a long time.
Because it is flexible and floats, it is also terrific for playing catch in the park or out on the beach. You can clean this tough, chewable toy in the dishwasher after use.
KONG Wild Knots Bear Dog Toy, Medium/Large Colours Vary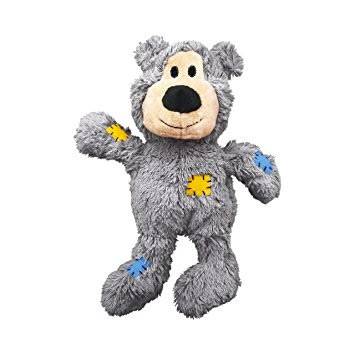 It may look and feel soft, but this cuddly KONG Wild Knots Bear Dog Toy is capable of standing up to a lot of rough treatment. This toy has a knotted rope skeleton that makes it very durable and, hopefully, long lasting.
A toy like this is ideal if you enjoy rough and tumble play sessions with your Cockapoo. It comes with a squeaker inside it and you get to choose from brown, grey or beige colours.
Idepet Dog Toy Ball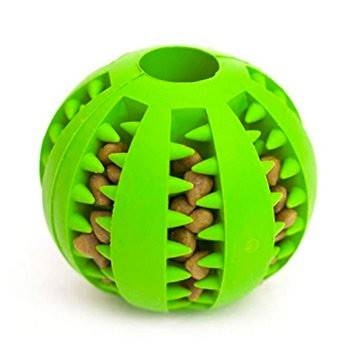 There are some great reasons for getting a bite-resistant chew ball like this great Idepet Dog Toy Ball. For a start, your Cockapoo will thoroughly enjoy playing it, while it is also said to be good at stopping him from being bored when alone.
This toy is also great at keeping his teeth strong, clean and healthy too. Importantly, it is made of non-toxic silicone rubber material and can lead to many hours of tremendous fun for both of you.
Snug Rubber Dog Balls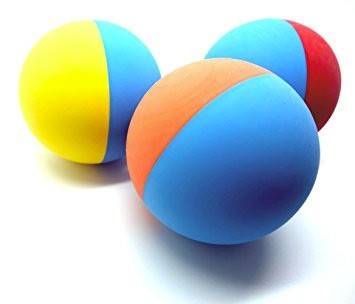 Even the roughest and toughest dog around will struggle to destroy these tennis ball sized toys. You get 3 of them in a pack and they are classed as being virtually indestructible. The fact that they float means that playing within the pool or in the river is a decent option for a bit of fun.
They come in a variety of eye-catching colours and are very bouncy, meaning that you can have lots of fun playing together with them. They are BPA free and are also easy to clean after use. In terms of size, each one is 6.5cm in diameter.
Dog Toy: Seriously Strong ROPE TREAD Tugger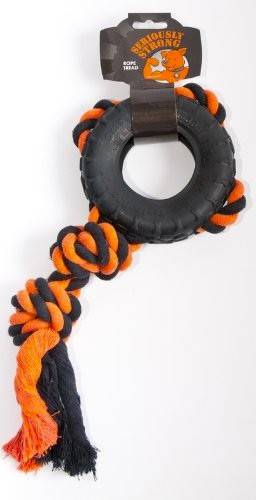 There are few better toys for a boisterous and energetic dog than a tough rope thread tugger like this one. It is some 20cm long and is attached a rubber tyre of about 14cm x 14cm.
This is a robust orange and black toy but it isn't indestructible. The truth is that you won't find a dog toy that is guaranteed as being indestructible but your Cockapoo should get endless hours of fun out of this Seriously Strong tugger toy before it breaks.
Dog Toy: Seriously Strong Treat Ball (An extra strong treat dispenser)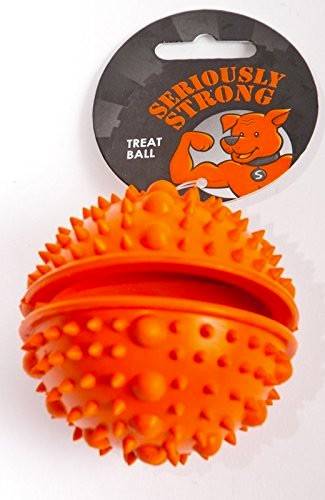 If your pooch loves his treats then this tough Seriously Strong Treat Ball is going to keep him amused for a very long time. It is an orange coloured treat dispenser that is covered in rubber spikes to encourage him to keep on chewing away.
The treats are slowly released from the ball as he plays. While it isn't indestructible, this is a very tough toy for him to sink his teeth into. It is also dishwasher safe, so it is easy to keep it hygienically clean at all times.
PetSafe Busy Buddy Waggle – Medium/Large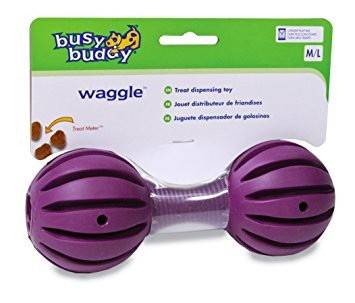 Any Cockapoo that likes to play rough can let off steam with this brilliant PetSafe Busy Buddy Waggle. It made out of natural rubber and the idea is that you fill it with treats that are randomly dispensed while he plays.
The clever design of this toy means that it waggles as he plays away with it. This is the option for medium and large dogs but this product also comes in other sizes for other type of dogs. If he is a strong, determined chewer then this is right for him.
Youson Girl Dog Puppy Toys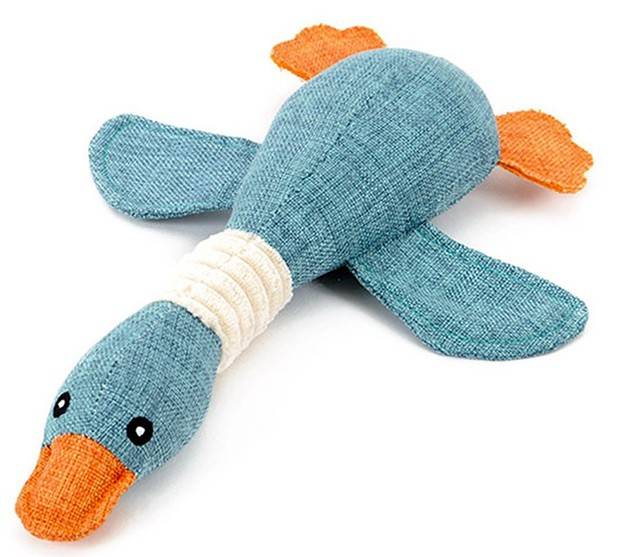 Your Cockapoo can work off his excess energy by playing with this soft, plush dog's toy. It is especially valuable for anyone who wants to spend more time playing with his pooch at home.
There are 3 cool colours to choose from. The fact that it makes a squeaking noise means that it is going to keep your dog happy with its sound as well as the feel of it in his mouth. He will probably end up utterly destroying but it should keep him amused for a while until he does so.
Gor Pets Vinyl Super Soccer Squeaky Ball Toy for Dogs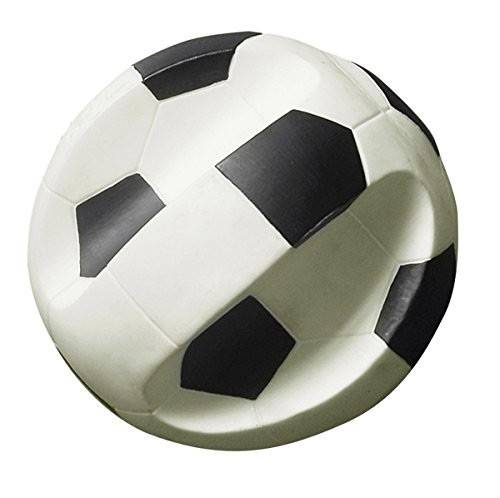 If none of the toys that you buy for your pet ever seem to last then it may be time to turn to this Gor Pets Vinyl Super Soccer Squeaky Ball Toy for Dogs. It has been designed so that he can grip it easily without puncturing it.
It weighs 240g and measures in at 19.5cm. The ball makes a squeaky noise in order for your furry buddy to get even more fun out of it. Once he sinks his teeth into this you then he will hopefully carry on playing with it for a very long time.
Summary
Sadly, there is no such thing as an indestructible dog toy for your Cockapoo. Even the best-made products can quickly end up in tatters once a strong and determined pooch sets his mind to the task.
However, if you choose any of these toys then hopefully he will get lots of fun out of it before it eventually needs to be thrown away.
If none of the above is right for you then check out these articles: