You've decided to get a cockapoo. Let me start off by welcoming you to the cockapoo club. Not only are you one of us now, you're also getting the best dog on the planet. Cockapoos have a great temperament, they're relatively easy when it comes to grooming and training them is loads of fun because they're super smart. Loving your pet comes naturally but there are a few areas where you'll need a little help.
There is a wide range of cockapoo books that can make life with the new addition to your family easier, whether it's ways to train or groom them. There are even cockapoo handbooks on teaching your cockapoo a few tricks.
This is my list of the top 10 cockapoo books to get. I myself have a few, and those I don't own have been recommended by fellow cockapoo people.
Cockapoo Training Books
Contents and Quick Navigation
1.The Cockapoo Handbook
This is a great cockapoo training book to have before your cockapoo pup arrives. It really is the essential guide for new owners, or those waiting for their puppies to come home. It's informative and prepares you for pretty much everything. I especially like the breeders' comments that are included. This is why its number one on our best cockapoo book list.
2. Cockapoos – The Owners Guide from Puppy to Old Age
This cockapoo book is written in a funny and engaging way and has a lot of useful hints and tips too. Some of the subjects covered include the origins and history of the cockapoo, different types and colours, socialization, vaccinations, food and nutrition and a whole lot more. It's definitely worth owning in your library of books on cockapoos.
3.Cockapoo: Comprehensive Care from Puppy to Senior
With over 280 pages, this book has a lot of valuable information. What I like is that it includes a very real guide on what you should expect before you commit to becoming a puppy owner. There are website links and resources for additional reading as well as information about organizations, breeders, and more.
4.Cockapoos (Complete Pet Owner's Manual)
This manual is a comprehensive guide to owning a cockapoo and covers the responsibilities and duties that owning a pet entail. I found it makes a nice guide for older kids who have their own pet for the first time. There is a heap of useful information included and loads of illustrations.
5.Cockapoo dog Owners Manual. Kindle Edition
While the title is a bit of a mouthful, the book itself is to the point and informative. It includes every phase of your cockapoo's life, from birth all the way through to him getting old. This cockapoo training book has information on house training, feeding, general care and how to cope when he gets old. If you're thinking of getting a cockapoo this cockapoo book will teach you all you need to know about the breed and if you're already a proud owner, it'll give you all the help and guidance to make sure you and your pooch are happy.
6. Cockapoo – Dog Expert
This particular book comes highly recommended by fellow cockapoo owners. Training and socialization, their behaviour and history, nutrition and food and overall healthcare are all covered.
7. You and Your Cockapoo – The Essential Guide Kindle Edition
You and Your Cockapoo is the definitive guide to owning the so-called 'designer' breed. You will find everything you need to know about cockapoos, from choosing one that's right for you, to buying it and what to expect as your dog gets older. I love the illustrations, some specially commissioned for this cockapoo book, and I think you will too.
8. Cockapoo Puppy Training
A new puppy brings its own trials and tribulations along with joy. This guide helps you through those first few months, which are the most important for a cockapoo puppy. You'll find out what you need to have before your new puppy arrives home, how to puppy proof your home, and bathing tips. There's even a list of pros and cons to puppy insurance. One of my favourite parts is the Puppies Ten Commandments.
9. The Complete Cockapoo Owner's Handbook
At number 9 on our best cockapoo books is this one. If you have a question about cockapoos there's a very good chance you'll find it in this handbook. It's a treasure chest filled with valuable information from grooming tips to training your pup not to jump on guests and teaching your dog and cat to get along in the home. There are even ideas on the best toys and activities for you and your cockapoo. An essential guide in any cockapoo owner's arsenal.
10. Cockapoo Activities (Tricks, Games & Agility)
This is like a cockapoo owner's bible. It's a must-have for anyone that has this one-of-a-kind breed. I would even suggest it for professional dog trainers. This is an extended version of the book, so anything omitted in the previous one is included here.
11. Puppy Bee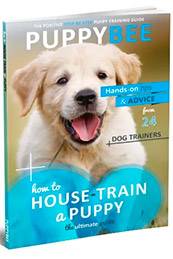 Even though all the above books are solely focused on Cockapoos its worth having a look at some books on cockapoos that are focused on puppies or adult dogs. Puppy Bee focuses on just puppies and would be great for anyone who is getting their first puppy. Robbin from https://www.puppybee.com/ has written 4 puppy training books to help you prepare for your puppy in the best way possible so you'll know exactly what to expect and do.
Please see https://www.puppybee.com/puppy-training-books/ for more information about his 4 puppy training books.
You definitely don't need all 10 cockapoo books but for the sake of you and your cockapoo's happiness, it's worth owning one or two.
Mike is the proud owner of a 7-year-old Cockapoo named Luna. He loves to share stories, tips and information about owning a Cockapoo. With over7 years of experience as an owner, Mike is passionate about helping others own and care for their dog.
Top 5 Popular Cockapoo Products