Travelling with your Cockapoo can turn out to be an exciting and fulfilling way of enjoying more time and new experiences together with your dog. Indeed, this is such a good idea that 1.4 million people chose to stay in the country last year to enjoy a holiday with their pooch instead of going abroad.
Yet, there are a few important points to bear in mind before going ahead and organising a trip with your dog. By spending some time looking into them you will have a far greater chance of seeing him enjoy the holiday as much as you do.
Keep Him Restrained in the Car
If you are going to be travelling with your dog by car in the UK then you need to keep him suitably restrained. This is covered in the Highway Code, which specifies the likes of a seat belt harness, pet carrier, dog guard or dog cage as being a few good ways of doing this.
In this way, he won't interfere with your concentration as you drive. He will also be kept safe from harm if you need to brake sharply at any point during the trip or suffer an accident.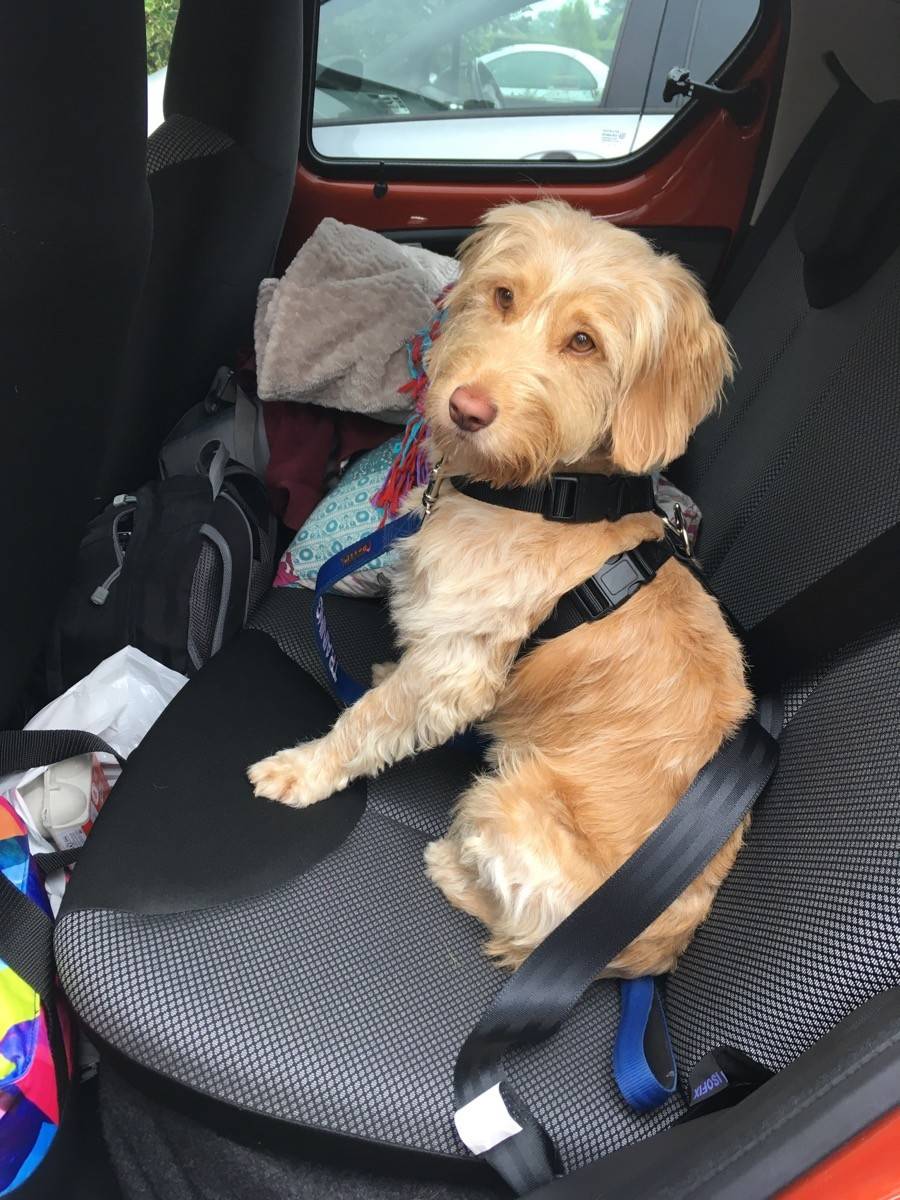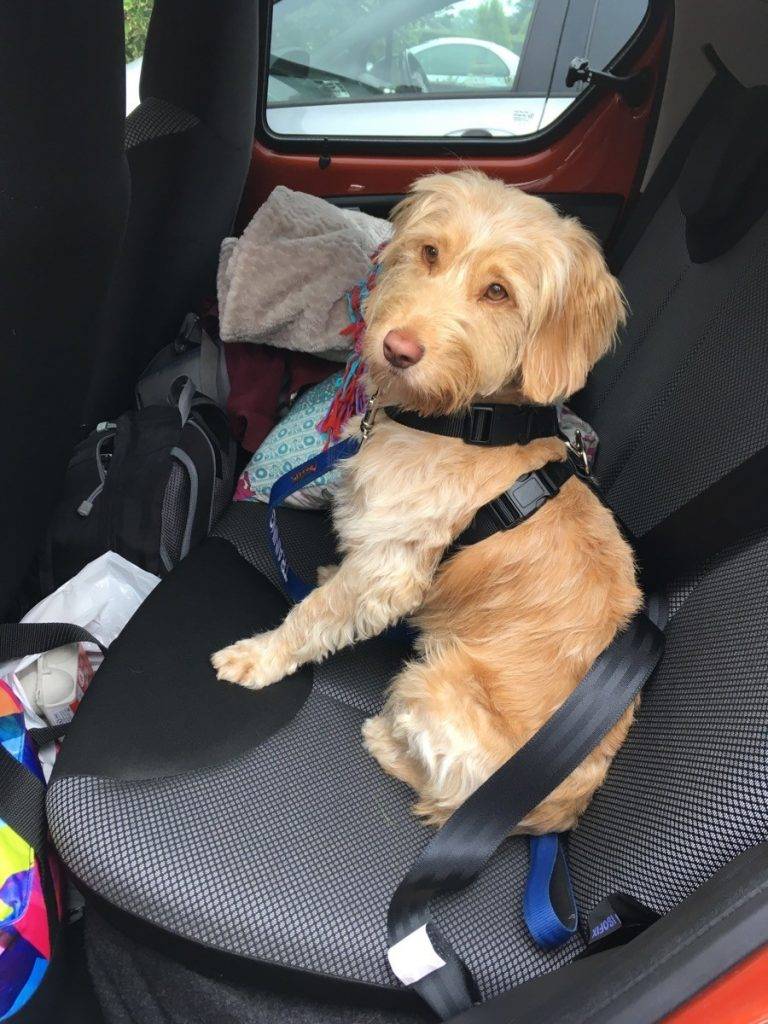 When you are going to head off on a foreign road trip with your Cockapoo then you will want to see what the law is like in this respect in the other countries you are going to be driving in.
Keep Him Healthy and Happy
Dogs can get very thirsty on a long car journey, so it is vital that you always have water available for him to drink. You can find special travel bowls and bottles for sale to make this safer and more convenient to do. Don't forget that he will need to stop for regular toilet breaks if he is drinking a lot during the trip.
It is also vital that you don't leave him alone in the car, as the temperature can rise very high inside. Even a few minutes in here can see him get dangerously hot, especially if the windows are fully rolled up.
While the car is in motion you will want to make sure that he doesn't stick his head out the window as this could be extremely dangerous, with other vehicles or trees beside the road being huge hazards.
Worries about Travel Sickness
It may be a surprise for some Cockapoo owners to discover that their beloved pet can suffer from travel sickness in the same way that humans do. The excitement and the stress of an adventure can be difficult for a pooch to handle, as can the motion of the vehicle.
Some of the signs that he could be suffering from motion sickness are rapid panting, not moving comfortably and drooling a lot. If you see any of these signs then you will want to stop and let him out before he is physically sick.
Letting him sit in the car for a while as it is at rest is a good way of getting him to feel relaxed and less stressed before the trip. Ideally, you will be able to get started slowly by taking him on short journeys or else stopping regularly at the start.
It can also help if he travels on an empty stomach and if the window is opened enough to give him fresh air. Some people also give their pets calmatives to help settle them down before starting the trip.
Understanding the Pet Travel Scheme
If you are planning to travel abroad with your dog then it is important that you understand about the Pet Travel Scheme (PETS). This scheme allows you to take your pet away with you and return with them to the UK without any fears.
It is a good idea to check the current rules before you travel. At the time of writing, your Cockapoo need to be micro chipped, have a pet passport, have had tapeworm treatment and be vaccinated against rabies.
If you don't follow these rules then he could face up to 4 months in quarantine on your return to the UK.
Check Out Possible Diseases in Your Destination
There are some canine diseases in different parts of the world that you need to be aware of. For instance, in the Mediterranean region Leishmaniasis is a nasty condition that is passed on by sand flies.
This disease can be avoided by using a preventative collar or by getting a series of vaccinations before you leave home.
You may also want to look into the different types of pet insurance that could help you to feel more prepared for anything that goes wrong while you are far from home.
Research the Destination
Are pooches generally welcomed in the place you are going to? Different countries have varying attitudes to letting dogs into restaurants, hotels etc.
France, Switzerland and Germany are frequently rated as being the most dog-friendly countries in Europe, while Spain is regarded by many people as being a difficult destination to take a dog to.
If you can book your hotel or campsite in advance then this will help you to feel more relaxed about not having any problems once you arrive.
By spending some time looking into this matter online you can feel far more comfortable about understanding what awaits you and your Cockapoo.
Take It Step by Step
As we have seen, there are a number of issues to bear in mind when travelling with your four legged friend. Therefore, it is a good idea to take this matter step by step in order to do everything in time and not miss any important points.
Find out about any vaccines needed
Consider insurance
Research dog-related issues for the destination
Get him used to travelling in the car if you are going to drive away
Ensure he complies with the PETS requirements
Get the car ready by choosing the right accessories
Set off in a relaxed frame of mind, keeping his safety and comfort in mind at all times
Top 5 Popular Cockapoo Products