What is the name and age of your Cockapoo and why did you choose that name?
Barney – He will be 2 in March.
My husband picked the name, I wanted to call him Capo.
Does your dog have a silly nickname that you have given them and what's the story behind it? 
We will mainly call him bear as he looks like one with his curly coat.
Can we have one of your favourite images of your Cockapoo please? Let us know why its one of your favourites.
His first time at trying ice cream and the second one of him chilling watching the TV (I'm sure he thinks he is human).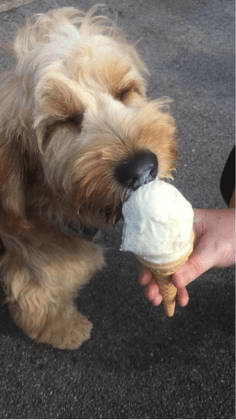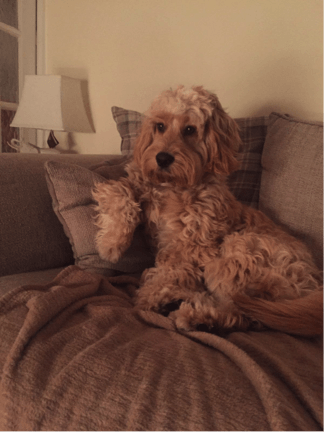 Does your Cockapoo sleep in a crate, or do they sleep upstairs with you on the bed? What were your reasons for your choice?

He slept downstairs for 11 months, then we removed the stair gate and then we had no choice, but we love him on the bed.
What is the first thing your Cockapoo does in the mornings when you wake up? (Any bed head photos welcome!)

Ours is lazy and will sleep all morning until lunch. If I wake up he will follow me to the toilet, then I will get him a chew for his teeth and we will climb back in bed and have cuddles.
What food do they eat? Are they on dry food? Wet food? Or a raw diet?
Dry food, we have tried wet but he licks the gravy up and walks off.
What's their favourite food that they just can't resist?
Cheese & Chicken.
Has your dog been on holiday, if so, where and did they enjoy it? Do you have dog holidays planned? 
No we will be taking him somewhere next year 🙂

What's their favourite toy and why?
Ovo Egg – no idea on why the obsession but it's the only thing he doesn't destroy.
What's the hardest thing about living with a Cockapoo?
Leaving him to go to work 🙁

What's the best thing about living with a Cockapoo?
They are such affectionate dogs, they can brighten up your day no matter whats going on.
Tell us a bit about what happens to your Cockapoo during the day? Are they left alone? If so, how long? Do you use doggy day care or a dog walker? Do you take them to the field, or prefer to take them for walks?
Never left along for more than 4/5 hours.
2 days dog walker, 1 day husband at home and the other 2 days he spends at my Nannas.
Where is their favourite place to go for a walk? 
Anywhere with mud and puddles and he can play fetch.
What advice would you give to someone looking into getting a cockapoo?
DO IT!!! Its tough with the teething at first but once that is over, you have the most loving/loyal dog you could wish for.

What was the last photo of your dog that you took?