Recent Barge Trip
We recently hired a barge for the day on our local canal. We were debating whether to take Luna with us as we didn't want too much of the day to be spent worrying about how Luna would react as shes quite nervous.
It was only a day trip, a few hours down the canal to a local town. Stop there for lunch and then head back again.
The engine on the boat was loud, Luna was not a fan and I have to be honest she wasn't the best on the boat. She preferred to be sat at the front right next to my wife and her friend while the rest of us were at the back of the boat nearer the engine, driving it.
Preparation
There's not as much preparation as taking your dog hiking etc, but there are still some things you need to consider.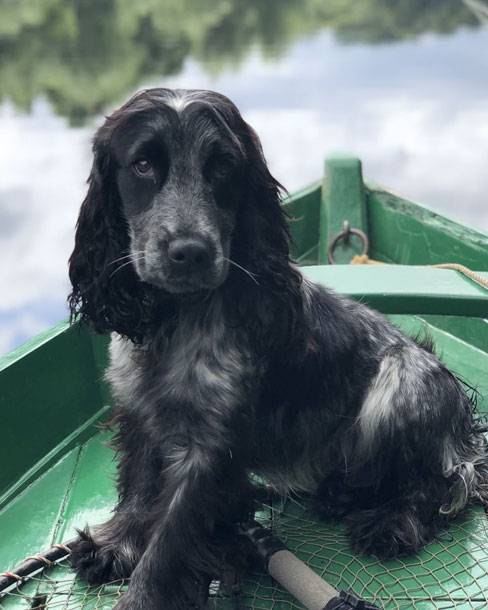 Life Jacket or No Life Jacket
We decided that we wanted Luna to have a life jacket on. She's fond of chasing birds and things that move and I was a bit worried about her jumping off the boat, going under the water and not coming back. Its happened once before on our local canal and my wife had to almost jump in, but luckily she managed to grab her out by her collar just as she was starting to sink! Scary times!
We went for this life jacket (link here) as it was affordable and had good reviews. It fitted well and she looked good in it. It also comes with a handle on top and with Luna being small it means we can easily grab her with the handle if we need to.
Take Plenty Of Water
Just like any other outdoor event you want to make sure they have enough water. If the weathers hot they are likely going to want to chill on the top deck which means they will need extra water.
Is the Water Dirty?
Take extra care not to let your dog drink out of the place your boat is on. The water could be contaminated and I know I wouldn't want my dog drinking out of my local canal. If it was a big clean river, then maybe i'd let her have a drink. Sometimes its hard to stop them though.
Do You Tie Them To Somewhere?
Do you trust your dog not to jump in? Most dogs won't jump from a moving boat, but if you moor up there's a chance they might just decide to take the plunge. It could be worth tieing them to something on the boat that allows them to move around, but is going to save them if they jump in but not be too tight that it's going to hurt them if they fall in. I'd use a harness around them or their life jacket rather than using a collar.
Your Dog Might Not Like The Fibreglass
This can be slippy on the dog's feet. It could be worth bringing them a little mat that they can settle on if there's no carpet on the boat. I think its easier to take an old dog towel that can be easily folded up and used as a mat, but also used if they need drying off.
Take Plenty Of Treats
You want to give lots of positive reinforcement to your dog, and treats will help with this. This could be important to make him stay in one place while you take care of tying up the boat etc.
Top 5 Popular Cockapoo Products