Playing fetch using sticks seems like such an iconic activity to do with your dog, you could easily be forgiven for not realising how dangerous it actually is. Isn't it the quintessential thing you do with a canine friend?
Even if you have heard of incidents, you, like the rest of us, have probably just dismissed them as being flukes or rarities. The troubling thing with sticks and some of the unpleasant injuries they can cause is that they really aren't rare at all.
Take as evidence the fact that the British Veterinary Association's president-elect, Robin Hargreaves says that he performs at least one operation on dogs with injuries sustained from playing with sticks every month.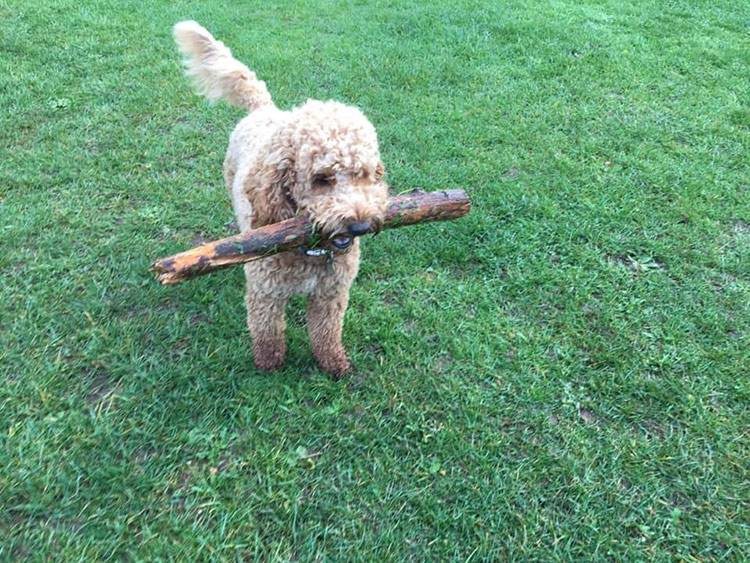 Common Dog Stick Injuries
Although there are a wide variety of different injuries that can befall your dog if you use sticks to play fetch with them, the most common are:
Gum and tongue splinters
Punctures into your dog's throat or the roof of their mouth
Penetration into their chest, which could result in serious damage to their lungs or heart
Impalement into the eye
Alternatives to Sticks
When you start looking for alternatives to sticks and branches, you find that there are plenty of options out there. At Cockapoo HQ, we really love the Chuckit! range of dog's toys. They have very tough balls that don't break easily and have a lot of bounce.
Below, we have gathered some of our favourites. Now, there's no excuse – you don't need to put your dog at risk anymore with sticks and branches.
Chuckit! Ultra Grip Ball Launcher, Medium
The first stick alternative we want to highlight is the long-range launcher from the Chuckit! range of toys and is ideal for dogs who have a lot of energy to use up, like cockapoos. When we say it's long, we mean it's very long at 25-inches. As well as the superb length, it also benefits from a comfortable grip made from rubber that you will never get tired or fatigued from holding.
Chuckit! Ultra Squeaker Ball, Medium, Pack of 2
The next alternative to the traditional to a dangerous stick and branch options is the ultra squeaker ball from the Chuckit! range. This is the medium sized ball that will work well with the product above. It has been made using robust materials to ensure it lasts much longer than traditional tennis balls. Due to its eye-catching design, it offers higher levels of visibility and buoyancy than other balls and it will survive a lot of use and abuse from your energetic cockapoo. Oh, and did we mention it has a very addictive squeak that your dog is bound to love sounding at every chance it gets. We are sorry in advance for the irritating sound.
Chuckit! Fetch Medley, 3 Multicolour Medium Balls
The next from the Chuckit! range is this Fetch Medley three pack of medium-sized and multicoloured balls. There is not a lot else to say – they are 2.5-inches, designed to be tougher and more durable than the average tennis balls, thanks to their high-quality rubber construction. This also helps give them the high bounce action they can achieve, which makes them extra fun to play with just about anywhere, but also when combined with the launcher highlighted above.
Kong SafeStix Fetch Toy for Smaller Dogs
The next and final option we have is the SafeStix from the renowned doggy accessories and toys manufacturer Kong. This is ideal for throwing for your dog to fetch, thanks to its flexible and bendable design and the vibrant colours. As well as being great indoor and outdoor use, they are also highly buoyant, so if your cockapoo loves playing in the water, they will have fun chasing after this when you throw it.
Conclusion
As you can see there are a lot of alternatives to using the conventional, but the dangerous option of sticks and old branches when you are looking to play fetch with your canine pal. As most of the products we've discussed are made from high-quality rubber, they are not toxic or sharp so are unlikely to cause injuries. In fact, because your dog will have to work hard to destroy them, it will help your cockapoo to get his or her chewing fix.